THE leader of Spain's main Opposition party opted for the Costa Almeria for his family summer break.
Popular Party national president Pablo Casado spent 10 days in Aguamarga in the Cabo de Gata Natural Park with his wife and two children, Spanish press reported.
They used their time to explore the park's coves, beaches and villages; the family were snapped enjoying lunch at a beachside restaurant in Isleta del Moro.
But it wasn't all play and no work for Casado. He also took the opportunity to meet with provincial and regional PP politicians and take part in party events in locations including Almeria, Balanegra and Pulpi, and to comment on provincial issues.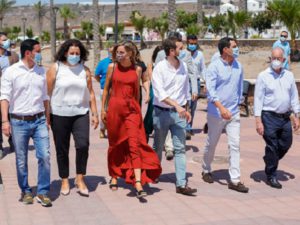 "Almeria is a safe tourist destination and one of the best coasts in Europe", the PP leader tweeted on Friday, insisting that water resources have to be guaranteed with European funds, as do the high-speed rail link.