THE option for British holidaymakers to travel to different countries over the past five decades has ensured that their taste buds now enjoy exotic dishes like never before but the majority still often crave a traditional Sunday Roast Lunch.
This is where Alberts Bar & Grill in Cabopino is the ideal venue to enjoy a brand-new carvery experience with some of the finest Beef, Lamb, Pork and Turkey you will find anywhere on the coast.
Alberts has always offered a traditional roast meal, but everything has moved up a notch now that guests can enjoy not just one meat but can mix and match and what's more, they can visit the chef as often as they like.
It doesn't have to be Christmas to enjoy Roast Turkey, there is the most succulent Roast Pork with really crispy crackling, tasty Roast Lamb and the Entrecote Roast Beef reminds us why the French used to call the British 'Les Rosbifs'!
You don't however have to be a carnivore to enjoy the carvery as the skilled Executive Chef has created a Roasted Pumpkin Nut Roast and there is a special fish option available as well.
Once you have decided on your roast (or roasts) you have the chance to enjoy Alberts much imitated but never bettered Cauliflower Cheese created with a mixture of mature cheddar and parmesan to add that extra bite.
Couple this with a selection of different vegetables, chipolatas, sage, onion and apple stuffing, Yorkshire puddings, roast potatoes and delicious gluten free gravy and tuck in to what is not just a meal but a total feast.
With the new hygiene rules, this isn't a free for all buffet but a chef will be on hand all of the time to serve each customer individually and you can be sure that not only does the chef know how to carve the meat perfectly, he also knows how to fill your plate.
There is also a choice of eight starters and five deserts but you can choose to simply enjoy the Roast at just €17.50 (great value for money if you remember that you can visit the chef more than once).
Two courses costs €21.50 and three courses €25.50 and all of those prices include vat at the current rate.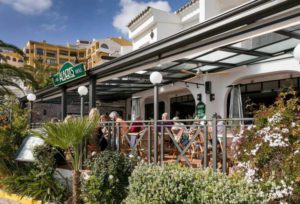 For those who prefer something lighter there is also a Sunday alternative lunch menu and Sunday lunch in both cases runs from 12 noon until 6pm so there is no excuse for not visiting.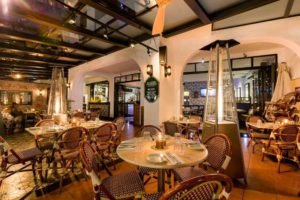 You are guaranteed a great atmosphere often with live performers and then in the evening the normal menu returns although the exceptional service is on hand from morning to night.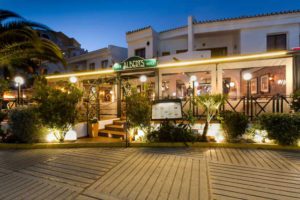 To make your reservation and to see the full menu, visit https://www.alberts-cabopino.com/.