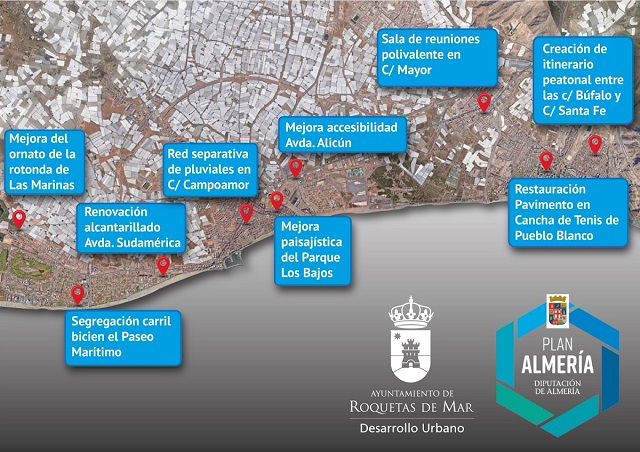 PROVINCIAL government funding will enable Roquetas de Mar council to carry out a series of public works in different districts of the municipality and at the same time benefit local businesses.
Roquetas Urban Development councillor Francisco Gutierrez explained the €240,000 worth of works are being 50 per cent financed by the provincial council under its 'Plan Almeria', the objective of which is to "encourage contracting self-employed and micro companies to carry out the restoration, repositioning and improvement of public facilities, offices and streets."
The projects include creating pedestrian access and improving the accessibility of Calle Bufalo at the Santa Fe intersection and redoing the surface of the tennis court to the south of the Calle Cerezo sports centre, both in Aguadulce.
Also included are turning a property in El Parador's Calle Mayor into a multi-purpose meeting hall and improvements to the seafront cycle track in the Urbanizacion.
The councillor said they were all works aimed at providing "small improvements to citizens' daily lives and are in addition to the maintenance works constantly carried out by Urban Development."