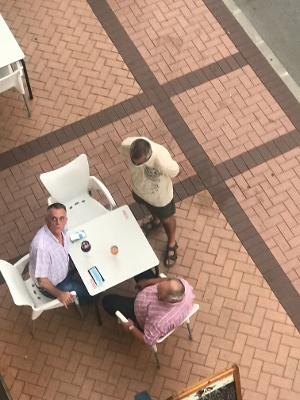 Fears of Coronavirus being caught from an air conditioning unit saw a big bust up on Spain's Costa del Sol as restaurant owner goes crazy and police are called
A restaurant owner on Spain's Costa del Sol flew into a rage as he feared a slightly leaking air conditioning unit would give his customers COVID-19
Expat Dave Murray, couldn't believe his ears when a restaurant owner flew into a rage over his slightly leaking air conditioning unit dripped water from his apartment down to the pavement.
According to Mr Murray, the owner of the Old Hand in Torreblanca, feared the leaking unit would give his customers Coronavirus from the dripping water.
"He went off his head for no reason," Dave told the Euro Weekly News.
"I had popped out to watch the Grand Prix and a bite to eat and left the AC on for my dogs, as it was too hot to take them with me, on my return I took my dogs out and walked right past the Old Hand restaurant and I never saw any water and I'm sure I would have noticed it"
"I returned home to watch some TV and as I sat on my sofa I could hear a commotion outside, even through my double glazing, It was that loud"
"I went out to look down and the owner was in a frenzy, shouting at the top of his voice "COVID, COVID" and waving his arms at me before angrily pointing up at me waving his fist"
"I couldn't stop laughing if I'm honest, I just waved at him, I didn't know what to say although yes there was a small drip coming out of the piping on the AC box that was landing on the pavement"
"I thought to myself, he's either lost the plot or drunk, how on earth can dripping water give you Coronavirus for christ's sake?"
"I've never heard anything so absurd in my life – I decided to take photo's of him as all the neighbours also came onto their balconies to see what was going on, he went off again as I cupped my ear, he started shouting "You give my customers COVID"
"I told him, don't be so stupid, and I turned the machine off and mopped the slight overspill up but he went off again, shouting and ranting"
"I felt like going down and sorting him out, but the wife ordered me not to as I would only make it worse she said, so I went back to my sofa and started to watch a movie"
"Next thing, my apartment buzzer started going off, I couldn't understand a word, it was him again ranting so I just put the intercom down, but it just kept going off – in the end, I went down to the main doors and there he was ranting now with two policemen by his side"
"The officers said they wished to inspect my apartment and so I invited them up and showed them my AC machine and the tiny leak, I was astounded when they asked if I had had COVID? – "No, I bloody haven't" I stormed, what a stupid question I thought as the officer went onto say that they had been called out by the restaurant owner over fears of giving his customers the Coronavirus!"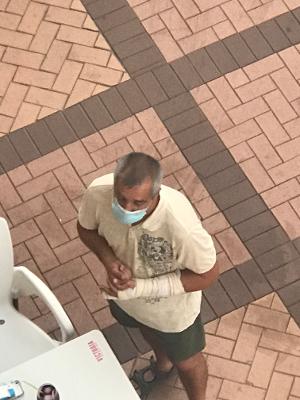 Neighbour Mary Watson, who's balcony adjoins Mr Murray's told the Euro Weekly News this morning:
"I've never seen anything so pathetic, what a commotion over nothing, what a waste of police time too, his customers have more chance of catching COVID off his scabby bandage I would have thought, really where can you get the fear of catching the virus from a dripping AC machine. He shouldn't have had his customers under it anyway, It's not even his terrace space" she said.
This morning Dave has the engineers out to fix the leak and said " That should end his fears, what a crazy man, where do people get these myths from I just don't know" he finished.