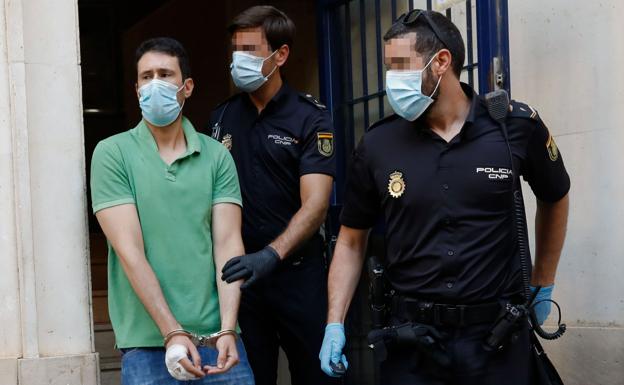 Police in Murcia rushed to the help of the elderly pensioner but he was dead before they got there.
Like a scene from a murder movie, the suspect lay in wait for his elderly father, who, at 5.30 am in the mornings would habitually take his little dog for his walk.
As his father approached, the 34-year-old, a self-confessed manic depressive, jumped out and surprised him, knocking him to the ground with blows to the head from a red traffic triangle that had been left on the road by road repair crews a few days before.
The alleged murderer said: "I was so charged with rage that I stabbed him several times"
As the old man lay screaming in pain, the suspect then, in a fit of pure rage, pulled out a knife and stabbed him multiple times in the neck area. To finish the job off the man then kicked and punched his father to stop him alerting local residents. A few minutes later the poor man died of his terrible injuries.
As police arrived at the gruesome scene the man was full of remorse. He said he had killed his father to prove he had the courage to and that he would never hurt his mother sister!
The judge, when presented with the suspect, however, wasn't listening to any of this and had the man put straight into a mental asylum for evaluation. The man had already admitted to the crime of murder and if proved sane would receive a life sentence. If proved mentally insane the man would 'probably never see the light of day again' said a court official.
A trial date is yet to be set.