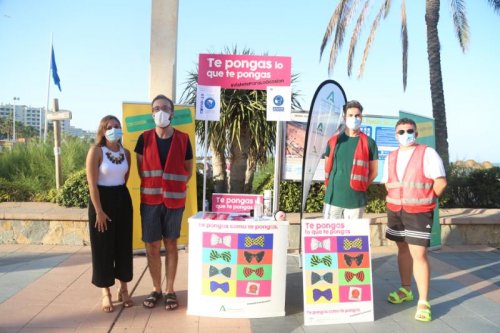 THE Andalucian Youth Council (IAJ) set up a stand on the promenade of the Fuente de la Salud beach in Benalmadena where they launched their new campaign 'No matter what you wear, dress for the occasion'.
"This is a campaign promoted by the IAJ for the prevention of sexually transmitted infections," explained Councillor for Youth, María Isabel Ruiz.
The campaign, which will visit 66 municipalities throughout Andalucia, is all about awareness-raising activities supported by material specifically designed for it.
Organisations with considerable experience in this area such as the Red Cross, Doctors of the World, Anti-AIDS Committee and many more have helped to prepare the campaign material.
The initiative seeks to approach adolescents and young people in places of youth concentration during this time of year, building interactive and creative spaces where, in addition to receiving information, young people can learn to modify a number of erroneous beliefs that hurt long-term relationships.