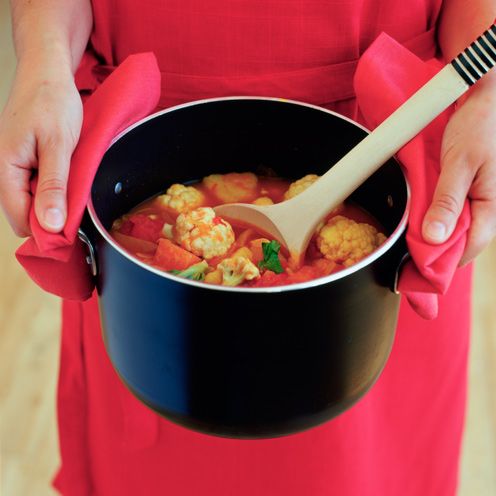 Here is another nice, simple recipe. It won't cost much, is easy to make, and you can use up whatever needs using from your cupboards! Add meat or fish if you desire!
For the vegetable curry
2 tbsp.
Balti curry paste
2 medium potatoes – around 225g- peeled and cut into small cubes
1 small cauliflower, cut into large florets, smaller leaves roughly torn and reserved
2 medium carrots – around 175g – peeled and cut into small cubes
1 vegetable stock cube
400 g can chopped tomatoes, optional
75 g frozen peas, optional
Curried vegetable rice
Heat the oil in a large heavy-based pan and add the onions. Fry over a medium heat for 10–15min until golden. Add the garlic, cook for 30 seconds, then the curry paste and cook for 1 min, stirring regularly.
Add the potatoes and cauliflower and fry, stirring to coat in the oil, for 2min. Add carrots and cook for 1min. Pour 600ml (1 pint) boiling water into a jug and crumble in the stock cube. Add stock to the vegetables with tomatoes, if using. Season well

Cover and simmer for 10min until the vegetables are almost tender. Add peas if using and cook for 2min. Add cauliflower leaves and cook for 30sec. Serve with bread, rice or on its own.

Curried vegetable rice:

Fry 1 small chopped onion in 1tbsp vegetable oil for 15min until tender, then add ½tsp Balti curry paste and cook for a further 2–3min. Add 1 large peeled and grated carrot, then immediately add 150ml (¼ pint) rice and 300ml (½ pint) boiling water, a crumbled vegetable or chicken stock cube and plenty of seasoning. Cover pan, bring to the boil and simmer for 10min. Add a handful of broccoli or cauliflower florets and continue to cook for 5min. Serves 2.