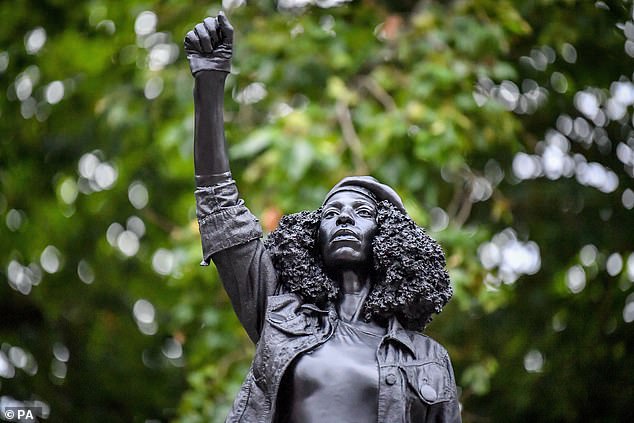 The controversial statue of Edward Colston which was pulled down and thrown in a harbour, was replaced overnight by a statue of a Black Lives Matter protestor
The statue depicting BLM protestor Jen Reid, with her hand clenched and arm raised in a "Black Panther' salute suddenly appeared in the spot where the Colston statue had stood for over a hundred years before being unceremoniously pulled down by protestors and dragged over a third of a mile before being thrown in the harbour
The statue of the protestor was made by Artist Marc Quinn is entitled 'A surge of power', the statue is made of steel and black resin, and was erected without permission from the local council at 5am this morning, July 15th.
Workers arrived in two trucks and the statue was put in place with a crane,
Ms Reid told BBC Breakfast this morning the new statue had not been approved by the council, but added: 'I think it's something that the people of Bristol will really appreciate seeing.'
Mr Quinn told The Guardian: 'Jen created the sculpture when she stood on the plinth and raised her arm in the air. Now we're crystallising it.' He said the statue would be a 'temporary public installation'.
Bristol council are yet to comment.