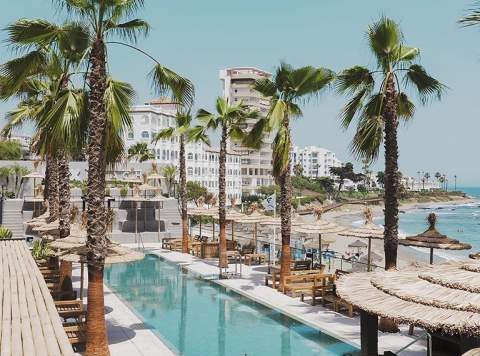 AFTER Max Beach in Mijas Costa's, big reopening this past week, Euro Weekly News decided to go down and check what all the fuss is about. Having heard that some businesses were running low on customers EWN found this was definitely not the case for Max Beach who were packed. The busy hosts, waiters, and waitresses were literally running around all night and made sure that every visitors' needs were met. What a team!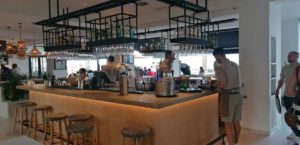 The rock star treatment began when we were greeted at the door with valet parking, a positive assurance that your relaxation was now in somebody else hands.
Inside, the decor is bright, airy, spacious, and comfortable. The dining room is full and bustling but the waiting staff are attentive and precise. No long waits, a full cleared table between courses.
The menu is a mix, but different to one you may have experienced before, a little Italian here, some Moroccan there, a touch of Japanese and a hint of Latin American, all blending well and contemplating each other.
EWN's starters included mixed koftas, the pumpkin and zucchini were soft and flavoursome and the lamb and pistachio heavier and satisfying. Chicken shawarma croquettes with harissa and black garlic yoghurt, which were a hit with a lovely soft and sweet bite and sea bass ceviche with 'tiger's milk' which was a beautiful and colourful blend of citrus and warmth.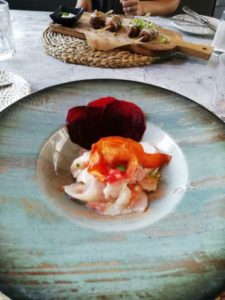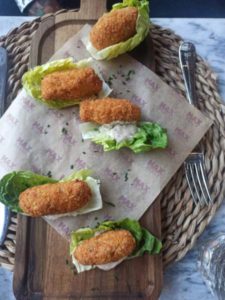 Looking around you could see many families, the largest amount of blonde hair I have seen in one place in Spain and lots of happy faces. People were there to spend time together, not just to eat.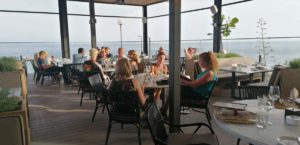 Now for the mains, big plates of chargrilled rib-eye steak with parsley mash, home-made onion rings and extra tasty smoked béarnaise sauce, the biggest chicken schnitzel EWN has ever seen with Israeli salad and the writer's own miso-glazed salmon with sticky rice and tamarind broth which was poured dramatically by the waiter at the table. It was perfect, a lovely, hearty cut of fish, and the miso was as it should be, a glorious glaze instead of an overpowering sauce.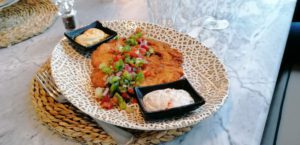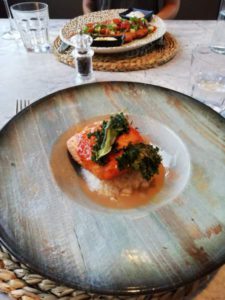 The dessert menu was full of wonderful sounding choices so of course, we dug in. The espresso martini panna cotta was delightfully creamy and not overpowered by the bitter, contrasting coffee, baked lemon cheesecake with lime curd was a smooth, thick mouthful but light on the belly, the sweet and tart flavour levelled perfectly. The best, in my opinion, was the chocolate, hazelnut and salted caramel pot, it was divine and served in a jar with chocolate crumble. If my tongue had been long enough I would have licked the jar!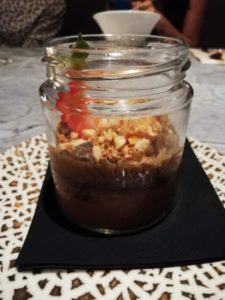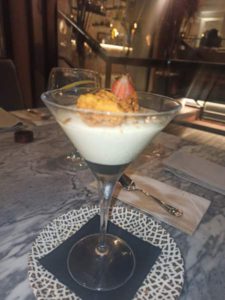 As our desserts went down our host invited us to cocktails by the poolside bar. The area has very comfortable beds for lounging with waiting staff serving to order. There is a DJ playing but the music isn't overwhelming.
The extensive cocktail menu has some classics but many inventive new future favourites like the sweet and heavenly creamy Caramel Baileys Colada which is a dessert in itself and a Parma Violet that's ingredients include gin, Maraschino liquor and violet syrup to remind you of the sweets from our childhood.
All of this is topped off by a very popular hookah service, where you can pick your flavour and have the pipe brought to your bed.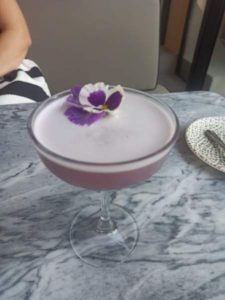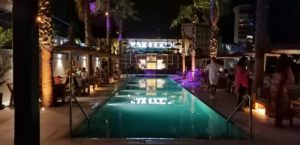 Max Beach wants you to enjoy all the finer things in life and it allows you to take the time to do so. There were no intrusions when we visited, we were encouraged to take our time and relax, I haven't chatted that much whilst having a meal for ages!
With brilliant service, an extraordinary and exciting menu, and the perfect ambience,
Max Beach should be at the top of your must-visit list.
Max Beack can be found at-
Ctra. A7, KM 198.1 Urb Riviera del Sol
PLAYA MAX BEACH
29649 Mijas Costa
To make a booking or for any further information call +34 952 930 858, email them at [email protected] or visit their website at www.maxbeach.es