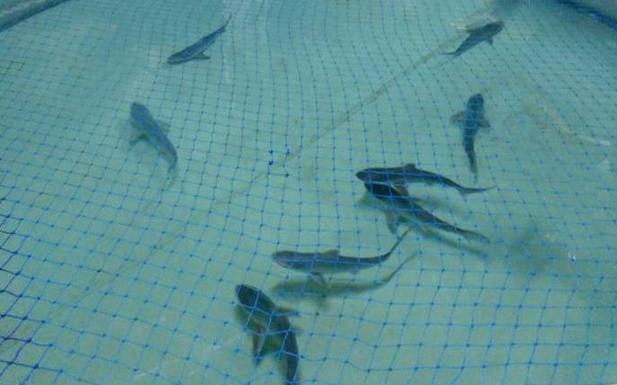 Valencia Oceanografic has announced the largest aquarium in Europe's very first birth of eight grey sharks.
THE pups belong to Mama Alice who has lived at Valencia Oceanografic since 2003, weighs 100 kilos and is about two and a half metres long.
Both mum and pups are said to be "perfect condition," although staff had to take rapid action to ensure the newborns – with an average weight of 1.4 kilos and measuring around 45 cm – were not preyed on by other species.
A Facebook post reads: "The quick intervention of our professionals, who activated the protocol of action and urgent control, saved them from a possible attack from other animals.
"The eight small, five females and three males, have been moved to the quarantine area where they have already started eating. This birth has been quite a biological event!!"
Nacen por primera vez en el Oceanogràfic ocho tiburones grises




🥳 ¡BABY BOOM EN EL Oceanogràfic València! Por primera vez en la historia de nuestro acuario, hemos registrado el nacimiento de OCHO TIBURONES GRISES 🦈, crías de la mamá Alice que vive aquí desde 2003 y que se encuentra en perfectas condiciones 💙.La rápida intervención de nuestros profesionales, que activaron el protocolo de actuación y control urgente, los salvó de una posible depredación de otros animales.Los ocho pequeños, cinco hembras y tres machos, han sido trasladados al área de Cuarentena donde ya han empezado a comer 💪🏻.👏🏻 ¡¡Este nacimiento ha sido todo un acontecimiento biológico!! 👏🏻.Lee aquí la noticia completa y mira las fotos 📸: https://www.oceanografic.org/nacen-por-primera-vez-en-el-oceanografic-ocho-tiburones-grises/

Zveřejnil(a) Oceanogràfic València dne Pátek 10. července 2020