HOW else would Mojacar's El Bandido Runners celebrate the club's second anniversary than with their regular five-kilometre run along the seafront promenade, although this time followed by a beach party.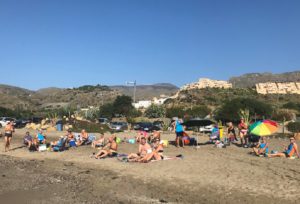 Carefully observing social distancing, members of the group gathered at their usual starting point at the Best Hotel end of the prom on Saturday for a staggered start so as not to crowd the Paseo with runners.
The El Bandido Runners members were unable to meet up for their usual Wednesday and Saturday morning runs throughout most of lockdown due to the ban on group activities. From May 27, once restrictions were eased, a small number of runners did start to meet again.
To allow for social distancing, the group split into two and started simultaneously from both ends of the promenade, but for Saturday's anniversary run it was back to everyone starting from the same place.
Since Kevin Rowe set up the group in June 2018, El Bandido Runners have run 11,800 kilometres on Mojacar's seafront, taken part in a number of local running events and winning many podium places, and organised a charity run to support the PAWS-PATAS animal charity and Mojacar Area Cancer Support (MACS).
The group started with a small number of regulars and has grown with runners, joggers and walkers, some permanent residents, other regular visitors and holidaymakers, covering the five-kilometre prom.
The group welcomes all ages, nationalities and speeds
For more information follow El Bandido Runners on Facebook https://www.facebook.com/pg/elbandidorunners or contact Kevin on ironmankev08@gmail.com.