FILM director Joel Schumacher has died of cancer at the age of 80, it was announced this afternoon.
The writer and director, who started out as a costume designer, was best known for St Elmo's Fire, Lost Boys, Batman Forever and Batman & Robin.
Schumacher took over from Tim Burton on the Batman franchise and worked with Val Kilmer, Jim Carey, Nicole Kidman and George Clooney on those movies.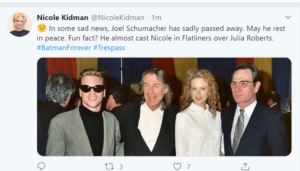 The respected film man had been battling cancer for more than a year before he died.
Schumacher, who was born in Queens in New York in 1939, moved to Los Angeles in 1972 as a Hollywood movies costume designer. He then started screen writing in 1974 and made is directing debut in 1981 with the Incredible Shrinking Woman.