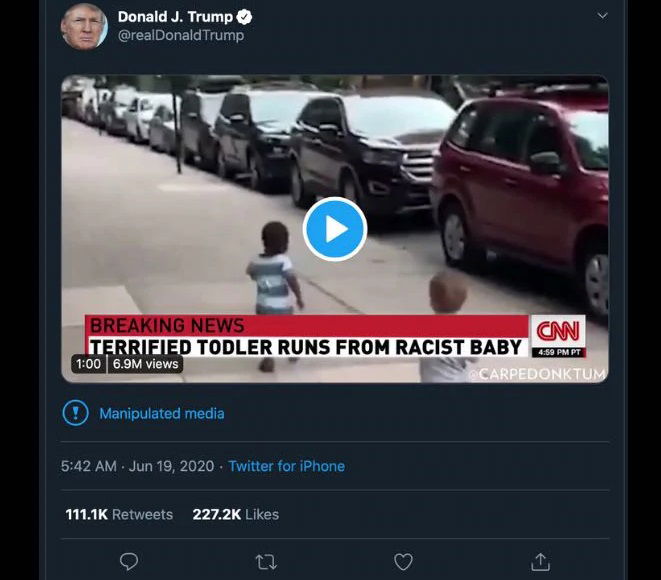 Twitter has controversially added a warning to a post from President Trump about a racist baby on Thursday, yesterday, saying it contained manipulated media designed to mislead people.
TWITTER has flagged a video tweeted by Donald Trump, which contained a fake CNN news segment about a 'racist baby,' adding a warning label that the post contained manipulated media.
The video, which had been doctored to make it appear as if it were a CNN broadcast, features two toddlers running and includes a fake chyron that reads 'Terrified toddler (sic) runs from a racist baby.' The clip later accuses 'fake news' of spreading misinformation, earlier that day Facebook had removed hundreds of Trump campaign ads that prominently featured a Nazi symbol.
Tit-for-Tat?
This latest move from Twitter comes after Trump signed an executive order last month designed to narrow protections for social media companies over the content posted on their platforms.
Although Twitter had taken a largely hands-off approach to the president's controversial tweets, in recent weeks the company began adding a label that fact-checked misinformation amplified by the US president, as well as a note cautioning that a post glorified violence
The 'Fake Video'
Mr Trump's tweet, which he posted earlier on Thursday, featured a video of two toddlers running down a pavement. The video had been altered to appear as if CNN had broadcast it, along with a fake chyron that claimed, ¡Racist baby probably a Trump voter.¡ The video went on to accuse ¡fake news¡ of stoking misinformation.
Mr Trump sourced the video from a popular pro-Trump meme creator who goes by the name CarpeDonktum.
Video credit: Donald J. Trump: Twitter
— Donald J. Trump (@realDonaldTrump) June 19, 2020
Twitter added the warning later on Thursday after the tweet had been viewed nearly four million times, tagging it with an exclamation mark and the words 'manipulated media.' The company's policies prohibit sharing videos, photos, or audio that 'have been deceptively altered or fabricated' to trick viewers and have the potential to cause harm. It was the first time Twitter used that particular label on one of Mr Trump's posts.