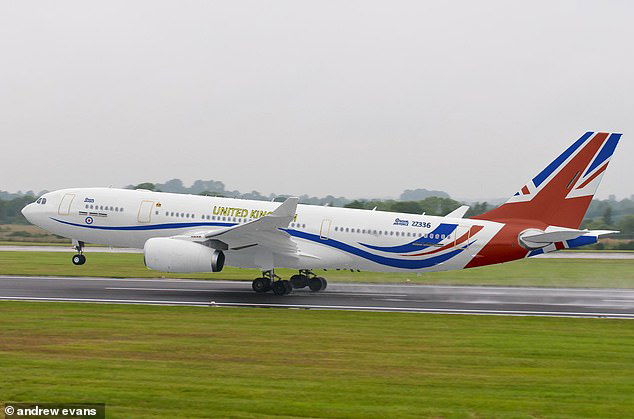 Mock-up based on 'leaked diagram' shows RAF Voyager plane after Union Jack makeover
Boris Johnson will fly the flag for Britain when he travels to international summits on his revamped VIP jet – according to a leaked diagram which shows the Union Jack blazoned across the tail.
An RAF Voyager used by the prime minister, senior ministers and the royal family is undergoing a 'red, white and blue' makeover costing £900,000, (€995000).
By photo-shopping the supposedly 'leaked' design plans, which have been widely circulated and been placed on to the current military aircraft this has provided the closest possible estimation of the finished product.
The words United Kingdom are painted in gold on the outside of the fuselage and the British flag coats the tail before trailing off in a single blue line towards the cockpit.
The mock-up picture was tweeted last night by Mr Andrew Evans, 36, from Solihull, the caption: 'Based on the diagram of the design doing the rounds in enthusiast groups last night – here is the expected scheme for the VIP Voyager currently being painted at the moment.'
He said that the leaked diagram, which was being shared among the aviation industry as early as Wednesday night, seemed 'legitimate.'