THE Harbour Bar & Restaurant Marbella is an elegant and friendly restaurant located on the first floor of the historic Real Club Maritimo (Yacht Club) in the marina of Marbella.
The restaurant is set for its grand reopening on July 1 and will then be open to the public seven days a week from 10 am in a stunning location with a fresh vibrant atmosphere and colonial-style décor.
Renowned for taste and presentation along with excellent friendly service, the team at The Harbour leave no stone unturned to bring you the best in port side dining.
The décor and views are fabulous and with live music and events, it's certainly one of the great Marbella hot spots to consider and well worth a visit.
Owners Marc and Penny Quinlan felt it was important to honour this historic location that has been central to society in Marbella for many years.
When they took over the venue, they made sure that it was refurbished to a very high standard blending the traditional with the modern and including a wall showing historic memorabilia to remind customers of how it has changed and progressed over the years.
Being so close to the sea, you can be assured that all of the seafood on offer is as fresh as possible, is delivered daily and naturally comes from local sources.
The new lobster tank means that you can enjoy a most delicious lobster as well as tasty fresh oysters, fantastic traditional fish baked in salt and a whole selection of other seafood perfectly prepared just for you.
There are a number of great options at The Harbour as you can order from the long a la carte menu which includes a selection of excellent meats, different paella and pasta including dishes ideal for vegetarians.
There is a reasonably priced set lunch menu with a choice of two or three courses and an early bird offer between 6 pm and 7.30pm which is terrific value for money.
Sunday lunch offers a selection of roasts alongside healthy seafood options and is accompanied by live music, just to add to the feeling of relaxation as you look over to the Mediterranean on a sunny afternoon.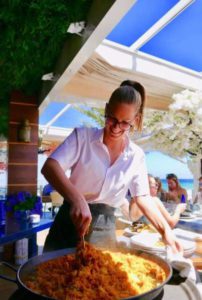 Fantastic and friendly owners Marc and Penny have played a vital part in the community over the recent health crisis period and have gone above and beyond the call of duty as part of a kind-hearted team collecting and delivering food donations to families in need on the Costa del Sol.
This is, without doubt, one of the nicest venues in the marina and not only do they welcome individual diners and small groups, but they also have the experience and space to cater for special events including weddings and anniversary parties with room for up to 200 people.
For reservations call 952 865 534, email info@theharbourmarbella.com or visit their new website to view the menu at http://theharbourmarbella.com