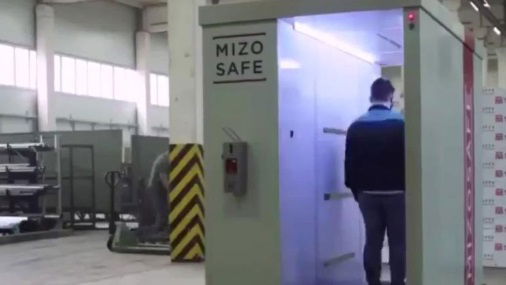 Russian State Media – 'A Disinfection Tunnel has been constructed to Protect Putin From Covid-19.'
RUSSIA now has the third-highest number of coronavirus infections in the world – so far there have been 561,091 cases of coronavirus infection reported in
Russia

 and 7,660 deaths.

Russia's second-largest city St Petersburg had the highest coronavirus mortality rate among all Russian cities in the month of April, according to a new analysis of official data.

Russian officials have urged hotels to ban unmarried couples from checking in as a way to preventing the spread of coronavirus.

The state-controlled news agency, RIA Novosti, has said Russian President Vladimir Putin is protected from the novel coronavirus by a special disinfection tunnel that anyone visiting his residence outside Moscow must pass through.
В резиденции Путина для защиты от коронавируса установили специальный туннель. Он предназначен для дезинфекцииhttps://t.co/jjwWbuZ2EX pic.twitter.com/h62KWARvsr

— РИА Новости (@rianru) June 16, 2020
The special tunnel was manufactured by a Russian company based in the town of Penza and has been installed at his official Novo-Ogaryovo residence outside Moscow where he receives visitors, RIA said.
Demonstration footage of the tunnel, published by RIA, and shown above, showed masked people passing through it being sprayed with disinfectant from the ceiling and from the side.
Recovery: A 103-year-old coronavirus patient in St Petersburg has recovered from the illness, the hospital where she was treated said. Valentina Martynovna is now at home with family and "feeling well," the hospital said.