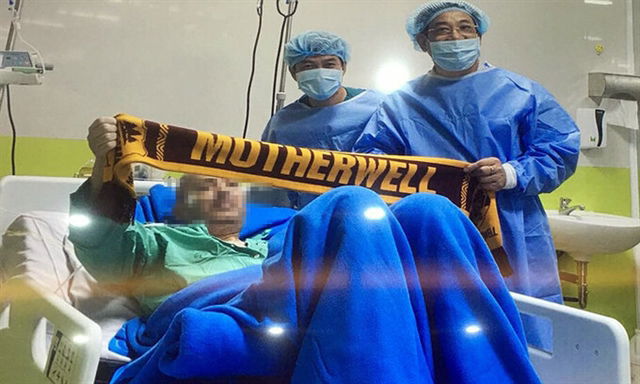 The lungs of the British pilot, Vietnam's most critically ill COVID-19 patient, have been recovering well. The patient can breathe unaided and doesn't need a lung transplant, according to  Lương Ngọc Khuê, director of the Ministry of Health's Medical Examination and Treatment Department.
Khuê said he visited the patient in Hospital on Tuesday afternoon. The patient's lungs are no longer infected and the muscles in his arms and legs are recovering, he said.
After contracting Covid-19 early in April, the pilot (Identified as Patient 91), fell into a coma and it was close to death for almost 2 months, only being kept alive by a ventilator and around the clock care.
He woke up yesterday.
When Khuê told the patient to stay healthy to be able to return to England, the patient corrected the doctor very quickly, saying the word 'Scotland'.
The patient also took a photo with the doctors, holding up a scarf with the word 'Motherwell', the name of his favourite football team. This was a gift that his friends sent to him last week.
Khuê said after successfully being taken off a ventilator, the patient had the tracheotomy tube removed and could breathe himself.
The most important factor was to undergo physical therapy, especially focusing on infection control as re-infection would be very dangerous for the patient.