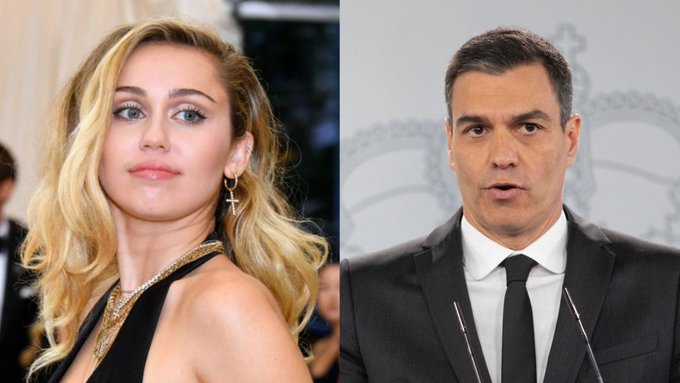 SPAIN'S Prime Minister Pedro Sánchez probably receives thousands of mentions and reactions on his Twitter account every day.
But two days ago, he received a Tweet from someone he couldn't possibly have imagined would be asking for his help.
American superstar Miley Cyrus recently used her Twitter account to request help from several European leaders, including Sánchez.
The Tweet was to highlight the fight vulnerable groups have against Covid-19 and how a unified response from world leaders would help.
The former Disney star, made famous for her role as Hannah Montana has become politically active as an adult, representing marginalised communities around the world.
Her Tweet of June 12 read as follows: "Spain, you united in solidarity with 'Black Lives Matter' with the United States. We have to stay together against Covid-19 and its disproportionate impact on marginalised communities, especially among people of colour, please join us."
Last night Sánchez Tweeted his response: "Spain is a leader in initiatives such as the ACT-Accelerator to achieve equitable access to vaccines, treatments and diagnoses to fight against Covid-19. We have a strong commitment, Miley. The union and the multilateral response is the only way to go so as not to let anyone be left behind."
Who would have imagined a collaboration between Pedro Sánchez and Miley Cyrus!