A huge police operation involving 500 officers has brought down a criminal gang that ran 30 drug outlets on the Costa Blanca.
THE Guardia Civil carried out a series of raids in Cartagena, Murcia, arresting 34 people on suspicion of being members of a criminal organisation, drug trafficking, illegal arms possession and money laundering.
In 31 searches, large quantities of drugs such as cocaine, heroin, marihuana, methadone and psychotropic drugs were seized, as well as €300,000, a dozen vehicles, firearms and ammunition, vehicles and drugs paraphernalia.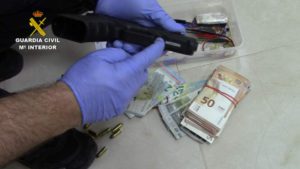 In a statement, the Guardia Civil said: "This is a known family clan dedicated to the production, manipulation and distribution of drugs, both retail in the town and to other criminal groups in Murcia region and neighbouring autonomous communities."
The operation began last year when Cartagena's Examining Court No. 5 and the Special Anti-Drug Prosecutor's Office of the Murcia Region, ordered an investigation into alleged drug trafficking.
The Guardia Civil added: "This criminal organisation controlled numerous retail drug outlets, colloquially known as 'garitos,' located in the Cartagena neighbourhoods of Los Mateos, Santa Lucía and Virgen de la Caridad."
Round the clock surveillance of the main suspects enabled officers to "learn about their customs and their way of acting, information that is essential to bring them to justice and to finally be able to determine the responsibilities of each of the people under investigation."
After several months of investigation, some 500 officers from the Special Intervention Unit (SIE) and the Security and Reserve Group (SRA) were involved in the operational side of bringing down the organisation.
And during the early hours of Tuesday morning, June 9, 31 searches were simultaneously carried out, 28 in Cartagena and two in Mazarron and Torre Pacheco.