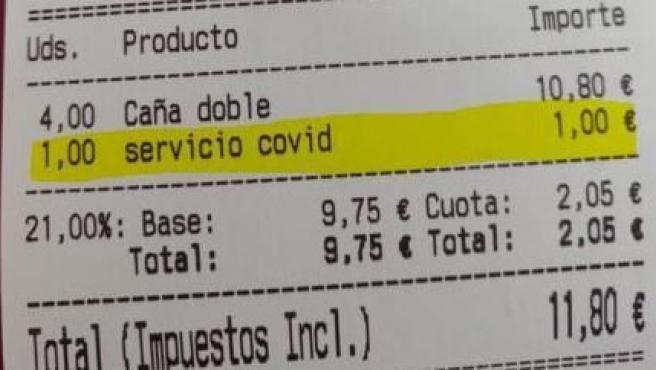 The bill for a few beers in a bar in Canary Island's Tenerife has sparked outrage online after a hidden and illegal Covid charge was included as part of its services.
THERE have been mixed reactions in the bag regarding this ridiculous fee, however, most reactions agree that this extra euro charge for a service which is required by law (disinfecting seating areas) is frankly outrageous.
The photo of a bill from a bar in Tenerife has gone viral after the business charged them €1 for a 'Covid service'.
One Twitter user joked that this fee involves being served Covid and having to pay for it as well.
Another reply, from a man who works in the hospitality sector, agrees that there are some new measures that have been taken into account due to the health crisis but that, at the end of the day, these are hygiene measures that should have already been put in place. If anything, they should simply be more scrupulous now in a post-pandemic climate.
An additional tweet also joked and wondered if the 'Covid charge' came as a shot of disinfectant.
FAUCA, an organisation which helps consumers with legal issues, also chimed into the online debate and clarified that this practice is "illegal." They "recommend issuing a formal complaint" to help put an end to this abuse.
According to consumer law in Spain, bars and hospitality businesses are allowed to include additional service charges but these must be rightly justified and known to customers.