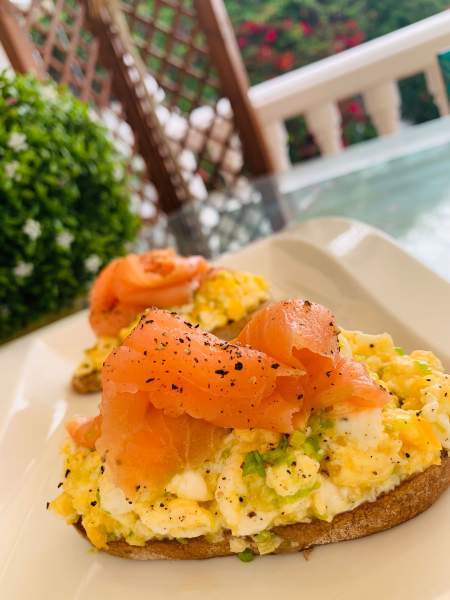 This week Celebrity & Master Chef Steven Saunders, proprietor of The Little Geranium in La Cala de Mijas cooks us breakfast Savoy Hotel style, with perfect scrambled eggs and smoked salmon.
I REMEMBER my training days well at The Savoy in London, where my first ever job there was to cook breakfast. The chef in charge of breakfast was showing me how to make poached eggs, hollandaise sauce, how to cook the bacon so that it was crispy but not overcooked and how to remove the skins from the tomatoes before grilling them.
I never knew it was so complex and I was trying to take it all in! As luck would have it, the Queen Mother was celebrating her 80th birthday in the Lancaster Suite at The Savoy the night before.
The Queen Mother was born on August 4, 1900, and I remember her 80th birthday day in 1980 well, as it had been my brother Howard's 21st birthday the day before, which I was unable to go to. She was on the way down for breakfast, I was told. To say that I was nervous is an understatement. It was my first time cooking breakfast and my first client is the Queen Mother… no pressure! On the menu, we had a dish of scrambled eggs with smoked salmon and a little cheese. I had been taught to shred up the salmon and add it at the end into the scrambled eggs. I didn't like this as it cooked the salmon, but I did as I was told.
The Queen Mother's order came in and on it was scrambled eggs, along with poached eggs and also an English breakfast with black pudding. I did not want to mess it up. Staying at the hotel at the same time was the comedian Dick Emery. He was on TV a lot in the 70 ́s in a show that involved Emery dressing up as various characters, "a flamboyant cast of comic grotesques". These included the buck-toothed Church of England vicar, a sex-starved man-eating spinster called Hetty and Clarence, an outrageously camp man who had the catchphrase "Hello Honky Tonks". Other roles were many but also included a busty, peroxide blonde whose catchphrase, "Ooh, you are awful… but I like you!"
He was a hilarious character and I was a fan. He came into the kitchen to ask what the Queen Mother was having for breakfast and I spoke with him at the kitchen's pass.
"Anything she has, I deserve," he said in a deep, camp, voice. So now double pressure and I was thinking that if I screw it up, I will be famous for being a chef disaster and not for being a great chef! I sent out the smoked salmon to the Queen Mother, but I forgot to shred it up and add it into the eggs, I just put the scrambled eggs on the toast and topped it with a generous slice of smoked salmon. I then seasoned it with black pepper. My sous chef came over and tore into me. I felt useless and that I had let everyone down. I was really upset with myself. The next day I was told that Frank Sinatra might arrive in time for breakfast, so be ready.
The order came in, and he ordered the scrambled eggs, but before I could mess it up the sous-chef (a different man) came over and said, "we are now putting the smoked salmon on top of the eggs and not through it."
"Really?" I said, "I did that yesterday and got ripped apart for it."
"Cheeky boy," he replied "that was yesterday, this is today. Shut up and do as you are told." So I did, and when I went home that night I thought, yes… and I punched the skies! The Savoy is actually learning from me! What a great feeling, although of course, I would never get the credit.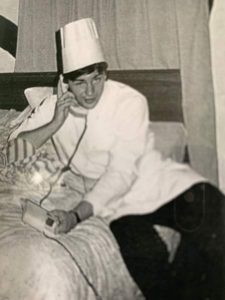 Smoked salmon with perfect scrambled eggs:

Making anything perfect is easy when you know how. I have to say that there are some pretty awful scrambled eggs served up at breakfast time these days. Often dry and rubbery, and have you noticed the eggs at large events? They are often made using an egg powder and it is disgusting! Should be banned.
Ingredients (serves two):
4 free-range or corn fed large eggs
2 slices of wholemeal or granary bread
A little unsalted butter for the toast
1 knob of unsalted butter- about 50g
1 tablespoon of chopped chives
1 heaped tablespoon of grated cheddar or gruyere cheese
100g of good quality smoked Norwegian salmon
½ fresh lemon or lime
Maldon salt
Freshly milled black pepper
Method:
Toast the wholemeal bread and spread with a little butter.
Melt the knob of butter in a thick-bottomed saucepan on a medium heat.
Now add the eggs, but do not whisk.
Using a plastic or wooden spoon, stir gently and slowly breaking the yolks away from the whites, so that when cooked you see strands of egg white and yolk.
Remove from heat and cover with a lid for a few minutes.
Remove lid, stir and season well and taste.
Now add the grated cheese and the chives.
Serve onto the warm buttery toast.
Top with the smoked salmon and squeeze the lemon over.
Finally, grind some black pepper on top of the salmon and serve.