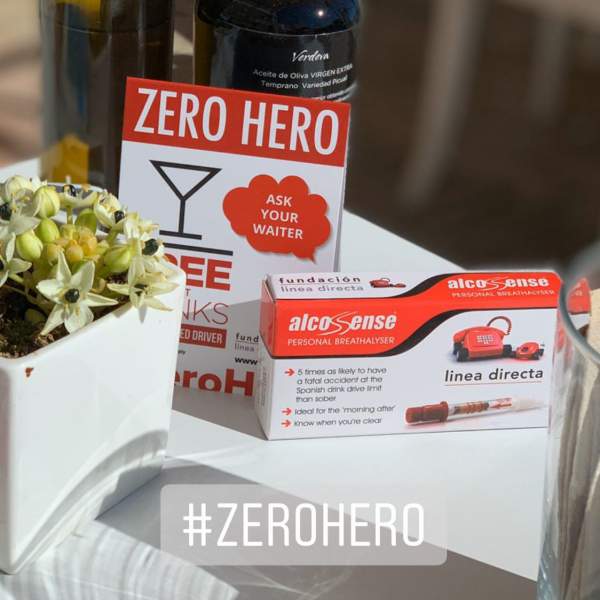 Our anti drink driving campaign Zero Hero is backed by Spain's most prominent road traffic safety foundation, Linea Directa.
This foundation only came into being from the necessity to educate people on road traffic safety, to create awareness, more social responsibility and reduce the percentage of accidents and deaths. Linea Directa take their role very seriously, "We are a socially responsible company committed to improving road safety in Spain, reducing the number of traffic accidents, protecting the environment, promoting education, social care and household safety, as well as a number of other projects."
Having worked personally in road traffic safety issues for over 20 years, firstly to instigate the use of baby car seats in Spain back in the '90s, followed by the use of seat belts during pregnancy together with the DGT, Midwives and Gynaecologist associations. Now, knowing what I know, how can I not actively encourage safer driving habits in Marbella and help to reduce the number of road accidents as well as actively promoting road safety measures. Knowing the statistics, one can't pretend it doesn't matter. It always matters, even when you don't know the person. However, when you do, it's devastating, particularly if nothing is being done about it.
Which is why I continue to push the issue. With this in mind and with the help of Linea Directa, the cost to drivers to comply with the rules has become significantly reduced with the introduction of a policy feature initiated as a result of Marbella Now and our United Nationalities of Marbella Summits, which offers a free taxi service up to four times a month to take the insured person and their car, or motorbike, back home after an evening out, at no extra charge. The idea of Zero Hero is again to promote higher safety on our roads and this is for everyone, whether you're insured with Linea Directa or not. Participating restaurants, bars and hotels are now rewarding the designated driver with free soft drinks at the participating establishments, which can be checked with disposable breathalyser tests upon leaving (supplied by Marbella Now TV and the Linea Directa Foundation).
We want to help you look after each other, to nominate and encourage your friends to be a Zero Hero. There are now many establishments who are in support of the Marbella Now Zero Hero incentive, some of which have also been fundamental in keeping our city fed and cared for during the lockdown. These are the places we should make a priority when spending out and about. We've just experienced first hand the importance of residents supporting each other; we've all needed to rely on others or help others over the past few months just to get by. Those who went out of their way to support the community need to be rewarded with our spending and supporting them. It's our time to give back and by going and supporting their business, we can let them know that we know and that we're grateful…