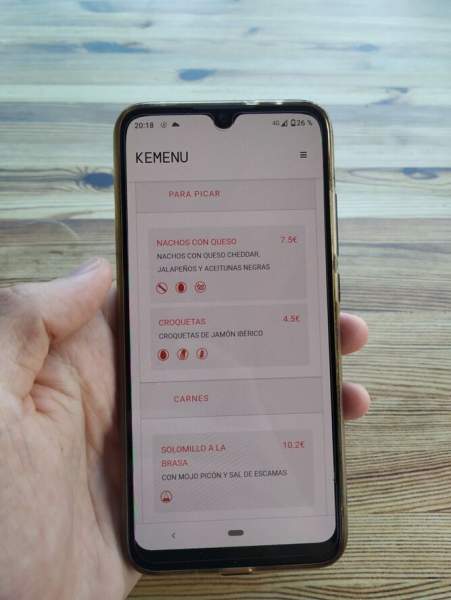 TWO Computer Engineering graduates from the University of Malaga on the Costa del Sol have launched a new app which will offer, free at cost, businesses to digitalise their menus in order to help cope with the new protective measures established as a result of the Covid-19 pandemic.
Although they are both recent Computer Engineering graduates from the University of Malaga, just before the health crisis broke out, the two began an internship contract at a company in the Technology Park.
Nicolás Vargas is originally from Almería and has a family that is dedicated to the hospitality industry and he thought that he should lend a helping hand to the sector by aiding its recovery towards a new normality.
Together with his partner Adrián Fernández, a native of Antequera, the two began to devise an application that would facilitate the return of the business in the hospitality sector as they reopen their terraces just in time for Phase 1.
The two have created Kemenu.com, a free, open source application that they have already put at the service of restaurants and bars for them to use and digitise their menus. They already have about 200 registered users and 1,000 daily visits to their site.
"We have done this for the people who are dedicated to the hospitality industry in this country, for entrepreneurs who are having a really bad time, who have suffered with their businesses being forced to closed and do not need another suffocating hand around their businesses neck which asks for another new investment," explains Nicolás Vargas, referring to the digitalisation of menus.
Vargas stresses that in this field "there is quite a lot of competition, many applications have been created to fulfil this service but if all of them are paid and this one is free, we are not looking for any profit."
During their spare time in quarantine, one being in Malaga and the other in Antequera, they worked on Kemenu.com, via video call and remotely, to put this app into service as soon as possible.
Operating the app is easy and intuitive, accessible to all types of users. "Restaurants make an account, register, put their dishes on the menu, along with their prices, information on allergens, descriptions, everything they want and it generates a QR code," says Vargas.
The customers at the establishment can then scan the QR code with their camera on their mobile phones without having to touch anything and a tab appears on the screen of their smartphone to display the menu. In a matter of seconds and without the need to touch any surface other than that of their own terminal, the user can choose what he or she wants to order.
"Right now the application is in Spanish and English," outlines the computer engineer, and he explains that they are working on adding some new functionalities such as including photos of the premises, images of dishes, and an algorithm for optical character recognition.
"For entrepreneurs who have several restaurants, instead of putting their menus up one by one, will be able to take photos of the pages and the algorithm will be able to distinguish the letters and then they are automatically digitised, with this feature, they would be able to avoid doing the manual work that is more laborious," adds Vargas.
"Users have given us suggestions on how to improve the application, such as not having to write out the menu by hand, being able to create the menu in several languages ​​or being able to include photos, we are working on all these functionalities, almost every day we put new things in," reassures the computer engineer.
The creators explain that the best thing about Kemenu.com is its simplicity as the app is, "very easy to use, it can be used by anyone who has a mobile phone, basically everyone," Vargas points out. To register you access the page and as soon as you arrive on the page, a button appears that invites the user to "start for free now."
"You create an account with the name of the restaurant, an email and the password, you add the dishes on your menu one by one, and make your letter with your sections, your dishes and all the information you have, it is very simple," he says.