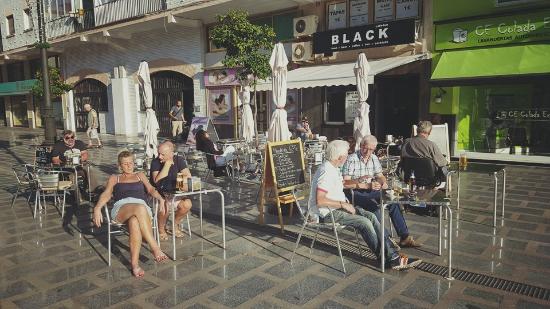 Costa del Sol's Torremolinos is willing to lend a helping hand to its bars and restaurants by allowing them to amplify their terrace space tax free and increase the number of available seats to the same amount they could fill before the pandemic, always when respecting the necessary distances between tables and transit of people.
MARIBEL BAEZA, the councillor for Public Roads in Torremolinos announced this morning that they would allow terraces to be expanded if requested without charging any additional fees to businesses.
This measure will help these establishments recover at a quicker speed and make up for the months they were closed. Baeza recalled that there are more than 400 bars and restaurants with terraces in Torremolinos, making it an important economic contributor in the town.
In the same sense, the council will continue to increase, where possible and when requested, public roads intended for terraces will be increased significantly.
Baeza has explained, "We understood that after these months of total closure and after withstanding very high operating costs, we had to do everything possible to help them during this harsh crisis, hence the Delegation of Public Roads has decided to take the initiative of, in the cases where it is possible widening the road, street or plaza so that they have more space on their terraces and also that they do not have to pay their fee until next year," she said. In addition, those establishments that request it, may postpone the payment of occupancy fees until the first half of 2021.
Maribel Baeza recalled that in the so-called Phase 1, meetings will be authorised on terraces for a maximum of 10 people, provided that the minimum interpersonal safety distance is respected. Terraces are allowed to open at 50 per cent of their capacity, without an influx of customers inside the premises.
The maximum occupation of the toilets by customers will be one person, except in those cases of people who may require assistance, in which case the use by their companion will also be allowed. These toilets must be cleaned and disinfected at least six times a day.
Self-service products such as napkin holders, toothpicks, oil dispensers, and other similar utensils will be eliminated, prioritising single-use disposable pods or their service in other formats.
Single-use tablecloths will be used. In the event that this is not possible, the use of the same tablecloths or trivets with different clients should be avoided, opting for materials and solutions that facilitate their change between services.
In addition, the use of common use menus will be avoided, opting for the use of their own electronic devices, blackboards, posters or other similar means.
Regarding the retail stores and services that may be opened to the public, the councillor explained that the total capacity allowed will be reduced to 30 per cent inside the premises, guaranteeing a minimum separation of two metres between clients, and if it is not possible to establish this distance, only a single client in the establishment will be allowed.
Likewise, she reminded that the establishments of Torremolinos must establish a schedule with a priority service for people over 65, as well as establish a collection system at the premises of the products purchased, providing that crowds are avoided on the premises.