Complaints have been coming in from women on the Costa del Sol saying that some restaurants have denied them access due to the thermal imager camera incorrectly showing they have a high temperature.
THERMAL imaging devices measure a person's temperature and are being used to vet customers wishing to enter restaurants up and down the Costa del Sol Spain and in some venues on the Costa Blanca.
The problem is they are not all made equal, the quality from the Chinese manufacturers can vary wildly, and so also do the readings – so much so that women in particular, who are going through the female menopause, are being refused entry because they show a high temperature. This is no joke for some women and can be very upsetting.
Costa del Sol resident Sue James said: "My hubby and I went to ***-*****-**** (name blanked out for legal reasons), when we got there I was so excited to be out at last, it was our anniversary too so it was a very special occasion. Never in my wildest dreams did I think I would be refused entry to our favourite restaurant."
Sue went on to explain exactly what happened…
"I had gone through a terrible time, in the few months I was diagnosed with a serious illness and had an operation at the Costa del Sol Hospital. All went well and they told me to come back in a month to start radiotherapy. I was still in a little pain but was determined to enjoy myself. As we got out of the taxi I had tears in my eyes, I was all emotional when my husband held my hand to help me gently out. We walked arm-in-arm to the entrance and a waitress came and said we need to take a temperature test before we could go in. We both agreed and my husband went first, I wanted to see what happened. He was cleared and then it was my turn, I knew something wasn't right when the waiter kept pressing the buttons and shaking the device. "I'm sorry, your temperature is well over what we were told to allow customers through, I can't let you in, sorry."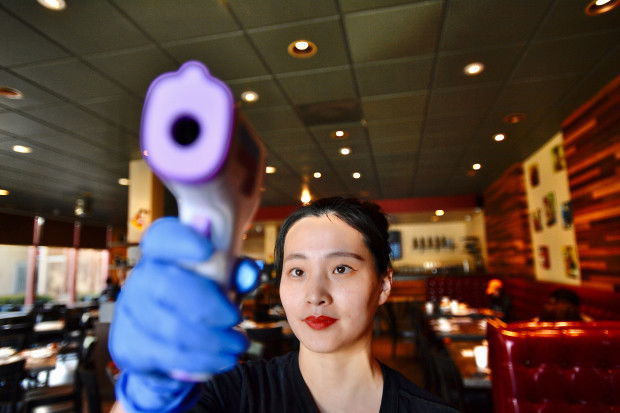 "I told you Sue, we should have gone to Olivia's, they have all the proper equipment," my husband quipped.
"Well let's hurry then," I said, "I'm sure they will let us in even though it's getting on and they will be rammed."
"The restaurant was kind enough, and very apologetic, and ordered us a taxi for the 30-minute drive to La Cala. When we arrived at the entranced to Olivia's it was a completely different experience. The concierge welcomed us and escorted us to an area where we were quickly scanned by what looked really expensive equipment and then a waitress came along and ushered us to the table. The thing is, I had tested negative for Covid-19 at the hospital and I do have the occasional hot flush.
"I wanted to tell everyone my experience in case they get refused from a restaurant in the future, just remember, these cheap kits are a waste of time and they are not accurate. We had a brilliant time at Olivia's, should have gone there in the first place, never mind, we know now."