Despite yesterday being the first day of newfound freedoms in Phase 1, Malaga's Costa del Sol did not appear unchanged as hundreds of bars and restaurants along the coast remained closed until further notice.
Residents on the Costa del Sol, who were excited to have their first taste of freedom after two months of full lockdown were left relatively shocked to see that every one in six bars along Fuengirola's promenade were closed.
A Euro Weekly News reader, Peter Lloyd, expressed his disillusionment at these sights, "I haven't ever seen so many bars and restaurants up for sale, they aren't even reopening just emptied out with for sale signs in them – my favourite I went to yesterday and it was all closed up and empty, it's been there for years I was really shocked".
It is no surprise that the hospitality sector has been left to fend for themselves with minimal state help from the government, however, it appears as if some have been left for too long as now in the times of the coronavirus it has become a question of survival of the fittest.
Even long-established restaurants, such as the reputable restaurant in Fuengirola's Fish Alley which had been on the block for 25 years has had to hang up the for-lease sign, in result of what, one can only imagine, has been a culmination of financial worries and seasonal uncertainties.
This crisis has proven to affect the new kids on the block as much as it has the more established businesses. The Silver Spoon on the Los Boliches paseo had only opened seven months ago but they too have closed. Another restaurant in the same area has also had to hang up a for rent sign, as after 20 years on the boardwalk, they too have been hit hard by the crisis.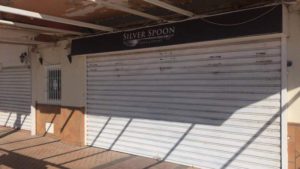 However, it has not just been Fuengirola and Los Boliches in trouble, as leases and reduced rents for businesses in Carvajal, Torreblanca, Torremolinos and Benalmadena, have been flying around the web at incredibly low prices.
Bars and restaurants in popular areas such as Bonanza in Benalmadena are up for rent for as low as €500 a month which shows how much these businesses have truly been struggling during the crisis.
Many of the restaurants advertised on real estate websites also feature large interiors but smaller terrace spaces. It makes sense that these businesses cannot survive having to pay a high monthly rate in the thousands due to their interior surface area, but that they can only serve 50 per cent of their 20 people capacity on their terraces.
Despite the population of Malaga being eager to take to the streets and start putting money in the pockets of hospitality businesses again, it seems that for a fair few bars and restaurants, it is a little too late.