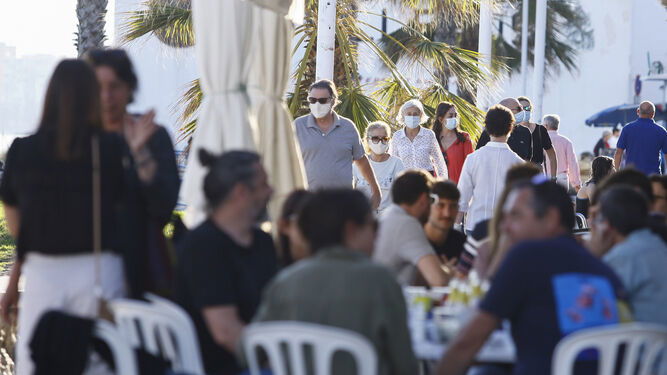 Yesterday, Local Police forces in Malaga carried out almost 300 interventions across different bar and restaurant terraces for not complying with the necessary security measures decreed by the Central Government in Phase 1.
As a result of the non-compliances, five establishments have been sanctioned. Furthermore, on the first day of Phase 1, the Local Police also sanctioned 115 individuals for not complying with the preventative measures, increasing the total number of sanctions in the area since the State of Alarm to 7,885.
The latest police actions can confirm an increase in complaints about young people occupying improper spaces or doing botellon on the streets. Last Monday, on Calle Ibarra, Local Police officers sanctioned 10 young people, some minors, who were gathered in a municipal park that was fenced off with tapes to prevent entry.
Two hours later, they surprised another large group of young people concentrated in the area of ​​Calle Vihuela, a protected and closed off area that they had accessed through the mountain side. At 9.20pm, five other adults were reported on Calle Manuel Altolaguirre for drinking beer and not maintaining preventive security measures on public roads.
In another circumstance, a Local Police officer surprised two individuals with 15 pots of marihuana in a street adjacent to Calle Nuestra Señora de Tiscar, who admitted to the officers that they had the plants at home but had brought them to the street to give them some sunlight.
The plants were then intervened and deposited in police custody, likewise the individuals were sanctioned for violating the royal decree and State of Alarm.