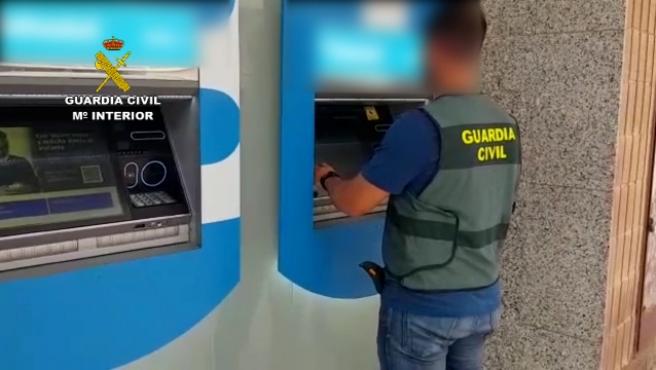 THE Guardia Civil in Alicante has collaborated with police forces across the Mediterranean and arrested two individuals in Torrevieja, who have stolen over €60,000 in Spain, and an additional two detainees in France's Marseille who also dedicated their time to scamming older people by using ATMs.
This criminal group would partake in their illegal activities all across the Mediterranean in Spain, France and Italy. After committing each scam they would quickly change location to lose any potential attention on them and scout out their next potential victims.
They would even go as a far as directly booking a flight each time after they committed this ATM scam to avoid being caught out by police.
This method, more commonly known as 'scalping' is prominent within the criminal scamming community. It entails watching the victim closely, a majority of who are elderly individuals and sometimes unaware of being watched. They would be close enough to see what pin number they had and then they would proceed to steal the card and withdraw money.
Other methods used to try identify and steal your pin number is changing the language of the ATM beforehand so that when you try and use it, they see you struggling and offer their help. Beware as this has been a proven technique which allows them to come closer, build a bond of trust and then steal your information.
This group of criminals would then quickly use the stolen money to buy gift cards at shopping centres which they would then use to purchase luxury items.
The criminals had logistical help in the municipalities of Marbella and San Pedro de Alcantara where they had access to cars, vehicles and plane tickets. The investigators were truly astounded at the rapid rate they travelled across the country in order to not be detected by police forces.
In one morning, the pair committed various crimes in Alicante's Torrevieja and returned to Marbella that same night. In another occasion, after managing to steal a significant amount in the same day they flew from Barcelona to Marseille in France.
They estimate that around €200,000 was swindled by using this method in Italy, the amount stolen in France is yet to be determined but in Spain police forces assure that the amount frauded from innocent people supersedes the €60,000 mark, €40,000 of which were taken from residents in Vega Baja, Alicante.
New arrests have not been ruled out and the operation remains open. The operation has been conducted by the Investigation unit of the Guardia Civil in Torrevieja and has been in collaboration with Mijas and the Guardia Civil in Malaga. Furthermore, the European Union Agency for Criminal Justice Cooperation has also been involved in the operation.