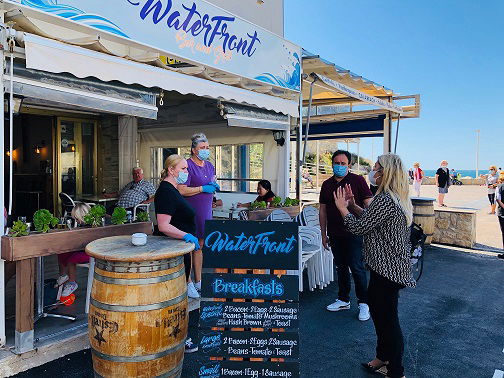 MOST of Spain is currently in Phase 1 of the de-escalation plan, including Costa del Sol's Malaga, however, some areas such as La Gomera or El Hierro are currently in Phase 2. Seeing as regulations are constantly changing under new decrees, it is important to know the difference on what you are allowed to do within your phase and what you cannot do.
Neither in Phase 1 or Phase 2 can you leave the province, mobility between provinces is still prohibited and is expected to recommence at a later date.
Phase 1
In Phase 1 family and friends can hold reunions at homes, within the same province, of up to 10 people.
These meetings should not include any vulnerable risk groups. Funerals and wakes will also be allowed for a limited number of people, 15 if its open-air and 10 if it's in a closed space.
Shops up to 400sqm can open, however capacity will be capped at 30 per cent and social distancing of two metres should be upheld. There will be preferential hours for customers over the age of 65.
Street markets will commence with one quarter of its usual stalls and capacity will be capped at 30 per cent.
Also, in Phase 1 is the reopening of bars and restaurants' terraces which is capped at 50 per cent.
Phase 2 
Phase 2 will be quite similar to Phase 1, the main difference being that it will accommodate for more people by increasing maximum capacities. Places of worship and shops will amplify their capacity from 30 per cent to 50 per cent.
Restaurants and bars with over 70sqm will begin serving clients inside at 30 per cent capacity and with table service only.
Shopping centres will also reopen but at 40 per cent capacity but with no common spaces. Theatres and cinemas will also reopen at 30 per cent capacity.
The newest regulation to be announced under this phase is the reopening of swimming pools and beaches, which will also be controlled. Pools will be capped at 30 per cent capacity and beaches will have to ensure a two-metre distance between individuals. The maximum number of people allowed at the beach as a group is 15, unless these all live together.
It is important to note that with these added freedoms comes an added sense of responsibility which we as citizens of a community must uphold. If sanitary conditions worsen or populations act irresponsibly then there is a possibility of being either held back in the same phase or even demoted to the previous phase.