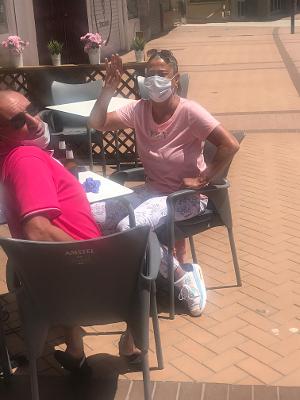 Residents on Spain's Costa Del Sol have hit the streets to celebrate the start today of phase one of lockdown release.
As the bars and cafes filled up in the ones that are open with happy customers, the celebrations quickly started.
People who haven't seen each other for up to 11 weeks are rejoicing with a drink or two as they celebrate finally being allowed out.
Mary Williams from Torreblanca, Fuengirola said "Its wonderful to be able to actually see people again after such a long time, I live on my own and have hardly seen anyone of 11 weeks now, if I did see them whilst shopping, I wasn't allowed to go near them or talk to them, I've been talking to myself a lot lately, it's so wonderful to at last have conversation again with friends and foe, I'm celebrating with a nice cool glass of wine, it's that wonderful today I might have another"
Residents celebrating today have worn in many cases full PPE including masks and rubber gloves whilst being served by bar owners in full equipment too whilst on duty.
Wendy said "Its so good to open up at last, it's been a long slog on lockdown, 11 hard weeks but it's fantastic to see people and see them so happy again, the mood has been amazing all along the sea front today, it's just such a fantastic feeling"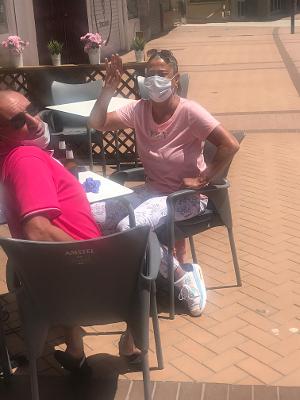 Jo Jo and her friend Tommy, who both normally work along the sea front in established bars and restaurants that haven't yet reopened took the time to go out and celebrate their freedom at long last but were having some issues!
" We have followed the advice and have worn both masks and gloves – we have an issue though" she joked.
"Its impossible to drink with a mask on and even harder to roll a fag with rubber gloves on but we are doing our best to stay safe"
"Seriously though its a fantastic buzz, a real buzz to be getting back to normal, hopefully we can all go forward from here after such a long period being cooped up"
Not all bars have decided to open today and many are still closed as they feel the cost of opening weighed against the fact they can only take 50% capacity at the present time as the larger establishments need more staffing and can leave their staff on the ERTE.
Trevor Kingdom said " I understand it – makes sense, a good advantage to the smaller traders at the moment, I'm walking along the front giving them all my support, its just halves today for me as I have a lot of visits planned"