Flood prevention measures have been completed in Costa Blanca's Finestrat, spelling the end of diversions.
THE council said the project is the "biggest hydraulic improvement scheme" carried out in the town, which will divert rainwater "from the historic centre to the River Antxero, thus avoiding the flooding that has previously occurred in the sports area of La Foia during intense rainfall."
Once the hydraulic work was finished, a 180-metre section of the road was asphalted to restore traffic and eliminate temporary detours.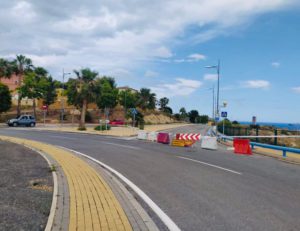 Finestrat Mayor, Juan Francisco Pérez, visited the Cantereria district with council representatives and said: "With this work we have the guarantee that the rainwater goes directly to the river, thus solving the problems of flooding that we suffered in this area every time it rained heavily.
"And after several months of execution of the work, traffic has also been restored. So we are grateful for the patience and understanding of residents during this time".
The council pointed out "the rainwater drainage system in the Cantereria area is part of a very ambitious project to provide rainwater for the entire historic centre".
Pérez said: "It is the hydraulic work of greater investment in the town after the channeling of the Cala ravine and one of great technical complexity."
A tunnel boring machine was used to drilled 75 meters of tunnel, six meters deep, to connect the Cantereria and La Foia area with the CV-767.
The project cost €445,000, paid for through an agreement with the water service concessionaire, Hidraqua.
The Town Hall is now working on a redevelopment project of the quarrying area.
"We are already working on a project to condition this whole area of Cantereria and La Foia with improved accesses, new public lighting and wider roadways, among other actions, with an investment of nearly €200,000.