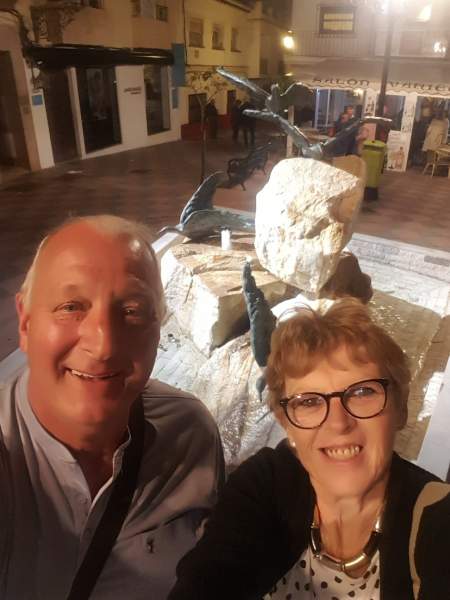 MARIE GARDNER lives in Viñuela and is raising cash for Velez-Malaga hospital with her handmade face masks.
She explained to the Euro Weekly News that it all started when the Covid-19 State of Alarm arrived in March, bringing lockdown with it.
Face masks to combat the spread of the coronavirus were in worryingly short supply and, aware of her compromised immune system, Marie decided to make her own.  She could not afford to take any chances, she explained, not after successfully coming through a cancer operation in Velez-Malaga hospital two years ago.
Three weeks after returning home, she found herself back in hospital with a mystery virus and she will always be grateful for the wonderful care she received there, Marie told us.
Using odds and ends of fabric that she had at home, Marie made herself some all-important masks but then her friend Linda Edwards, who also lives in Viñuela and owns Second Time Around, put a photo of Marie's masks on her Facebook page.
That's when it snowballed because other people saw them and wanted masks too and Marie decided to combine keeping busy during lockdown with raising money for Velez-Malaga hospital.
Instead of selling the masks, she asks for a donation, all of which goes to the hospital.
Initially she had hoped to raise €100, but this soon grew to €200 and having reached almost €700 she has now set her sights on €1,000.
"I would never have come this far without Linda Edwards' help which got the ball rolling thanks to her Facebook contacts," Marie declared.
Before long she had exhausted all her own supplies of fabric and those of her friends, so Marie has turned to buying material from Amazon and other online sites although, as she told the EWN, deliveries can be frustratingly slow to reach her.
She uses double-layer cotton and some of the masks have filter pockets, she told us.
As they are cotton, the masks are washable and re-usable, with patterns ranging from pretty flower prints to fun designs with cats and dogs and even beach huts for those yearning for the sea and sand they won't have yet.
Wearing glasses herself, Marie knows that masks soon steam up and adds a wire nose-bar so that the fabric can be pinched round the nose: problem solved.
Spain's population can't go abroad yet, but Marie's masks travel to Ibiza, Gibraltar, the UK and the US.
She is also overwhelmed at people's generosity: "A lady in Torre del Mar only wanted two masks and insisted on paying €50, knowing that this would go to the hospital," she said.
Whatever direction the government's de-escalation takes, one thing is certain, that masks will be here for some time. "I'll happily wear one for the next six months if necessary," Marie told us and most of us agree with her.  And with masks as pretty and practical as hers, who's grumbling?
Readers wanting to know more about Marie's mask can find out more on Facebook, searching for Marie Gardner.