THE quick action of police prevented a fire from being set off by all illegal hook up to the power supply in Almeria.
A police patrol went to take a look at the building in the Pescaderia district of the provincial capital after noticing sparks coming off a building façade in Calle Jabega.
A closer look revealed a nest of cables, in what looked to be an illegal electricity connection.
Worried about the fire risk for the property occupants the officers knocked on the door to raise the alarm.
The one person at home at the time admitted the connection was not legal. Not only that, it turned out the electricity was being used to provide the necessary power to keep a marihuana plantation inside the property going.
When officers searched the home they found more than 100 marihuana plants.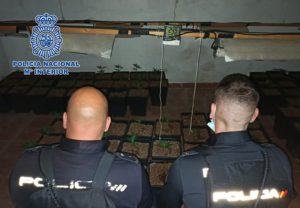 The occupant now faces charges for drugs and for defrauding the power supply.
Police issued a warning that illegal hooks up to the electricity are not only a crime, but represent a serious risk to health and safety.
The police said they have registered numerous cases of fires in installations and homes as a result of illegal power hook ups in recent years, and that they have caused injuries and even deaths.