Hairdressers and beauty salons outnumber any other commercial establishment in Benidorm on Spain's Costa Blanca.
ACCORDING to data compiled by the town council every two years, 'Benidorm in Figures' 2020, (based on figures from the end of 2019, before the coronavirus pandemic), there are 315 hair/beauty salons registered in the town – 19 more than two years ago, and 58 more than in 2014.
According to the Independent Association of Traders in Benidorm (Aico), this could be because salons require an initial investment of between €6,000 and €10,000 to start up. "This is a budget lower than that required by other types of establishments. And with proper training and in premises with reduced space, you can start working immediately. It is one of the sectors, along with bars, that most entrepreneurs choose," they said.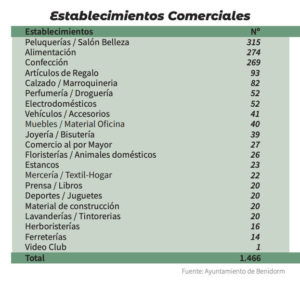 Benidorm Figures 2020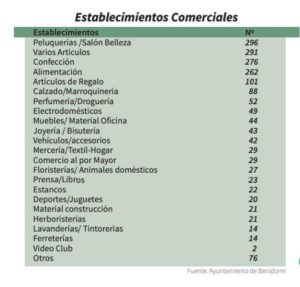 Benidorm Figures 2018
Another sector which has seen growth in recent years is food/grocery, which is second on the list with 274 stores, 12 more than in the 2018. In 2016 there were 266 and in 2014 there were 242.
The real estate business is seemingly doing well, with a gradual increase in number of agencies. Benidorm in Figures for 2020 shows there are 125 registered, three more than in 2018, five more than in 2016 and six more than in 2014.
The sharpest increase within the service industry is car rentals, which have more than doubled from 18 six years ago to 40.
"This is a reflection of how Benidorm has developed in recent years, where the use of personal vehicles or tourist rentals to move around the town and even the region has become widespread.
On the other end of the scale are all centres, which had their peak in the first decade of the 2000's, but whose numbers have since fallen, from 61 in 2014 document to 40 in the latest breakdown.
It remains to be seen what impact the coronavirus pandemic will have on the commercial, service and hospitality sectors in Benidorm.