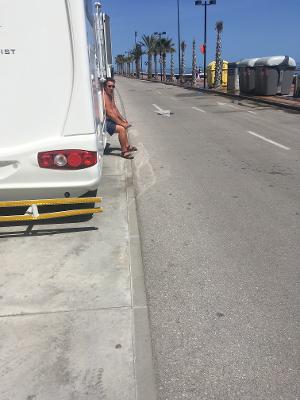 A stranded man on Spain's Costa del Sol complains it's getting like a police state as he remains confined to his motorhome 
AFTER eight weeks stranded on the roadsidein Spain's Costa del Sol, a stranded motorhome man has had enough of the police despite now being able to leave his motorhome in the mornings and evenings, and says the police are now singling him out as temperatures rise.
He told the Euro weekly News of his plight:
"I'm parked dead opposite a bench, I go and sit on it to get fresh air in front of the sea and away from the intense heat of being in the motorhome, but the police come along constantly telling me to get back in my motorhome as I'm not exercising.
"They talk to me like dirt instead of just allowing me to sit in the air, they aren't even polite, shouting at me get back in the van.
"I had enough yesterday morning and blew my stack, so I kept walking from the bench to the sea wall and back, all of three yards or so and I told them, "there you go I'm exercising and it left the policeman scratching his head, as soon as I stopped though he ordered me back to my van.
"What's the difference of sitting on my motorhome step or the bench just across the road? – nothing! There's bloody joggers running by spitting on pavements who are causing far more risk than me just sitting on a bench, that's for sure.
"They are picking on me now since that, but it's not just me, I saw yesterday a family from New Zealand removed from the beach and fined, but they left a Spanish family on there and said nothing to them at all, one rule for one and one rule for another, that's for sure.
"I've been here eight weeks now stranded, no ferries to get home yet, and they treat me like this, I have been coming here for years but I am sad to say it's become a police state of late, I can't live like this!"