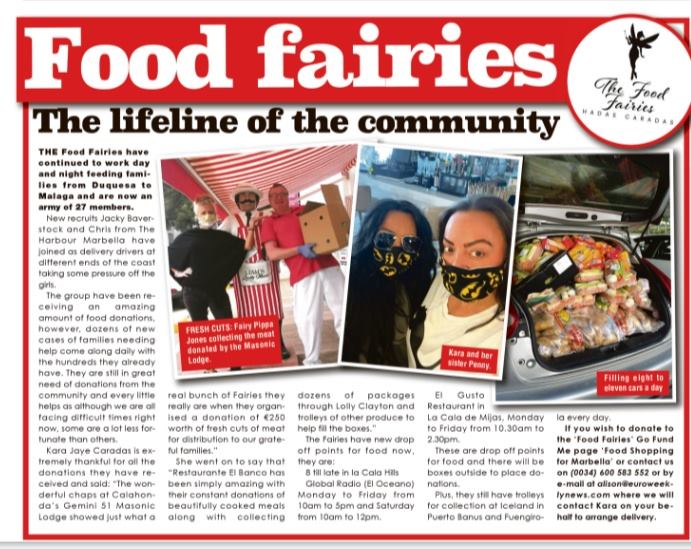 Marbella's Food Fairies are now bigger and stronger but need your help feeding families on the Costa del Sol, Spain.
THE Food Fairies have continued to work day and night feeding families from Duquesa to Malaga and are now an army of 27 members. New recruits Jacky Baverstock and Chris from The Harbour Marbella have joined as delivery drivers at different ends of the coast taking some pressure off the girls. They now have eight to eleven cars a day filled with boxes for families.
The group have been receiving an amazing amount of food donations, however, dozens of new cases of families needing help come along daily with the hundreds they already have. They are still in great need of donations from the community and every little helps as although we are all facing difficult times right now, some are a lot less fortunate than others.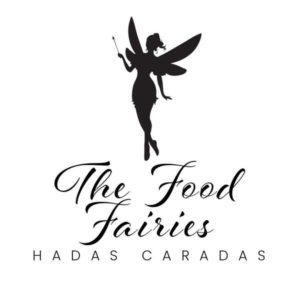 Kara Jaye Caradas is extremely thankful for all the donations they have received and said: "The wonderful chaps at Calahonda's Gemini 51 Masonic Lodge showed just what a real bunch of Fairies they really are when they organised a donation of €250 worth of fresh cuts of meat for distribution to our grateful families." She went on to say that "Restaurante El Banco has been simply amazing with their constant donations of beautifully cooked meals along with collecting dozens of packages through Lolly Clayton and trolleys of other produce to help fill the boxes."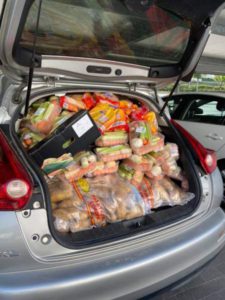 The Alhaurin Fairy Base The Shack, Coin is under pressure and had some relief with wonderful donations coming in from @ukfoodalhaurin and Papeleria Cristina
with owner Nick cooking up a storm to feed the ever-growing number of families.
The Fairies have new drop off points for food now, they are:
8 till late in la Cala Hills
Sam's bar off of Avenida Palmeras, Benalmadena, Mon, Wed, Friday   12 p.m. to 1 p.m.  Woodies Bar, Avenida Bonanza, Benalmadena Mon, Wed, Friday from 1 p.m. until 2 p.m.
Global Radio (El Oceano) Monday to Friday from 10 am to 5 pm and Saturday from 10 am to 12 pm
El Gusto Restaurant in La Cala de Mijas, Monday to Friday from 10.30 am to 2.30 pm
These are drop off points for food and there will be boxes outside to place donations.
Plus, they still have trolleys for collection at Iceland in Puerto Banus and Fuengirola every day.
As the group are receiving more and more news of pets, dogs, cats going without food for days, they are desperately seeking food for animals. If you can help with this it would be much appreciated,
If you wish to donate to the 'Food Fairies' Go Fund Me page 'Food Shopping for Marbella' or contact us on (0034) 600 583 552 or by e-mail at alison@euroweeklynews.com where we will contact Kara on your behalf to arrange delivery.