A British family marooned in the UK under lockdown finally have their property back after waiting almost two years for the Spanish legal system to enforce a judgment for eviction.
A FEW weeks ago at 6am one morning in the back streets of Malaga a police van pulled up and 10 officers dressed in riot gear battered down the door of an apartment that gypsies had illegally occupied for the last two years.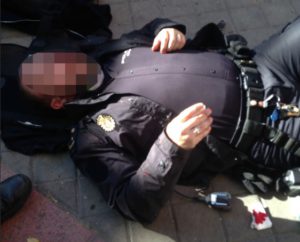 The 'tenants' poured buckets of water and spat and swore at them as the battering ram broke through the heavily fortified door leading upstairs to flat 1B. Minutes later, and after having to drag them out on the floor, a gypsy family was on its way to the police station, handcuffed and swearing revenge on the family.
Pete and Jean Willow, from Halesowen in the West Midlands, had originally bought the property almost 10 years ago to the day of the eviction. Pete explained how it all came to this:
"We fell in love with Malaga when we first stayed at a hotel in the centre of town but couldn't afford the prices of central Malaga so we looked out of town and found this.
"Everything was going great until, one night, we met an English guy in the Spanish bar across the road from the apartment. We chatted about where we live, how we are retired etc, the normal stuff, he seemed a genuine person and when he explained he was having hard times we agreed to let him stay at the apartment for a while when went we back to the UK, maybe do a little of DIY."
Of course, we didn't let him just stay there without making a copy of his passport to verify who he was, in fact, he insisted on it. That was about three years ago, the last time we stayed there ourselves.
He, (Steve), sent frequent pictures of him painting and decorating the place and generally keeping it clean, all was good until suddenly, he stopped answering his phone that is.
"What followed was almost three years of hassle and heartbreak," said Pete. "We didn't know where to go to or who to ask for help, in the end, we decided to confront Steve, a burly 40-year-old ex-bodybuilder! We just had to do something as we were still paying the mortgage for the flat.
"No way in a million years did we expect to find what we did, even the Spanish lawyer we took with us was shocked, all the locks had been changed and a family of gypsies had taken over the property"! said Pete.
"We returned to the lawyer's office in a right state, after about two hours of tears and multiple coffees we just told him to get it back for us, we were warned it would a while but didn't expect it to take this long.
"We had the call about the eviction a few days ago, we were shocked when we saw the pictures, crazy we thought. Apparently, apart from removing the gypsy family, the police had recovered a large amount of stolen property too, the lawyer said.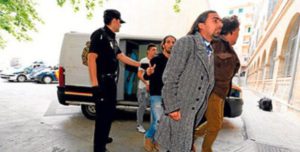 "The point is now, we can't get to Spain with the lockdown in place and it's really frustrating. We have seen on Facebook that we aren't the only ones in the position we were in. The police in Malaga said that there is an epidemic of squatters living in properties of ex-pats' properties as they know they can't get back to reclaim them."
Here is just one of the hundreds I noticed today:
In need of sound advice, please. I have residencia in Spain and have an EU passport. I'm in the UK at present under lockdown and it seems I can't return to Spain. I have rental properties that I live off and tenants are not paying rent or bills. I need to get back to Spain soonest to try and sort it out. I'm booked on a flight for May 2, but was told there are not flights till June 17. I have two questions:
1. How can I return?
2. Can I apply for government help?
Pete: "I just hope the lockdown ends soon in Spain and the UK, it's horrible knowing someone is living in your home and you can't do a thing about it. I wish everyone good luck in getting their properties back."
A norwgian family just found out that their house in Spain had been occupied by strangers. They can't get in, the squatters are protected by Spanish law!! Never buy a property in Spain.