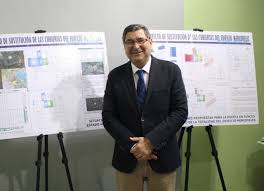 WORK has restarted on completely remodelling Velez-Malaga's emblematic Mercovelez building.
Local mayor Antonio Moreno Ferrer explained that the rehabilitated building will serve multiple roles and house very different kinds of activities for a capacity of 2,000.
The finished building will even be big enough for band rehearsals, he revealed.
"Now that State of Alarm restrictions on construction have been lifted, we can continue municipal activity, reactivate the local economy and guarantee that this important and much-needed project can go ahead," Ferrer said.
The Mercovelez modernisation scheme is now in its first phase, which is the most complicated and expensive.
The building is to have a new roof, woodwork, lighting and ventilation as well as a solar energy system that will need a total investment of €1.6 million, of which €1.1 million is coming from the provincial council, the Diputacion.
"Rehabilitating Mercovelez and its future role will boost the municipal economy, generate employment and provide a social meeting place in the town centre," Moreno declared.