THE rescue services had to launch a complicated operation in adverse conditions after a woman who went walking with her dog in the Pollensa mountains on Easter Sunday got stuck in a steep, difficult to access area.
The authorities ruled out scrambling a helicopter as by the time she called for help it was dark. Instead a Soller fire service mountain rescue specialist team was called in.
It took the crew six hours in driving rain and in the dark to free the 35-year old Italian from where she was trapped in the Cavall Bernat sierra.
By the time they got to her it was after midnight.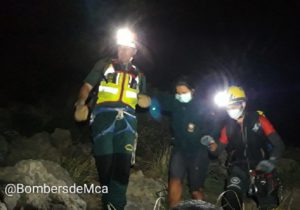 The walker had only suffered minor injuries and was able to walk to safety.
She now faces sanctions for violating the coronavirus state of alarm restrictions.