SPANISH nationals and British expats were all relieved to hear the news that Covid-19 test kits ordered by the Spanish government have finally arrived as it signals a possible end to the strict lockdown.
A total of 131,146 rapid tests sent by the State Government arrived this morning at the port of Sevilla from where they will be distributed to all the provinces of Andalucia with the aim of increasing control over the coronavirus in the population of the community.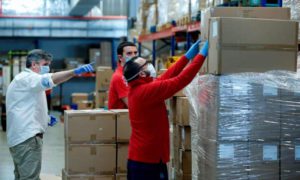 This new shipment of material, which will be followed by others in the coming days, is intended for the population at greatest risk, especially for distribution in hospitals and nursing homes, reports the central executive.
These tests, whose sensitivity has been tested and validated by the Carlos III Health Institute, will complement the PCR, which will allow a substantial increase in the diagnostic capacity to confirm or rule out the presence of Covid-19 in the population and in order to reach 20,000 daily tests.
The shipment also contains 325,000 surgical masks and 7,000 protective gowns that come from direct purchases and also from donations, which will be distributed according to the distribution criteria established by the Andalucian Government and which will go to hospitals, health centres, health professionals and nursing homes, among others.
These 131,146 rapid tests are part of the million that the central government announced yesterday that it was going to distribute among all the autonomous communities.
The total amount of medical equipment that arrived in Andalucia this morning reached 3.4 million units, with 1.8 million being masks and the rest: – 1.6 million nitrile gloves – 40,700 tights, aprons, hats – 14,184 hydroalcoholic solution – 12,600 protective goggles – 8,922 divers.
With all this material, Andalucia is the third autonomous community in the number of units assigned after Madrid and Catalonia.