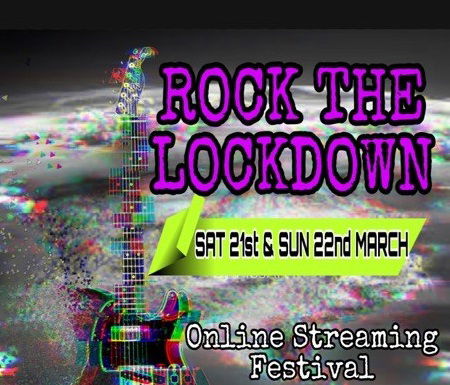 A PHENOMENAL 400 acts have jumped at the chance to be a part of what will be the biggest online streaming music festival ever to be staged in Spain.
Rock the Lockdown takes place this weekend, with live music streaming via Facebook throughout Saturday and Sunday.
And what originally began as a community platform for acts from the Costa del Sol has quickly become a worldwide event, with bands streaming live from Australia, Switzerland and America.
Euro Weekly News this week exclusively revealed the Costa del Sol's most popular duo's 'Rock of the Ages', Ollie Hughes and Lucy Pardoe had come up with the idea to "entertain the masses".
Once news broke, the event literally snowballed with more than 400 acts signing up to take part, a figure which has had to be cut back to 60.
An excited Ollie told EWN: "What started off as an idea to bring some happiness to everyone on the coast in these dark times is suddenly turning into a worldwide event."
Life coach and mentor Dione Lockyer is onboard as one of the coordinators, and said the response has been phenomenal.
"We set up a Facebook page and have already got 129,000 members, it's incredible. More than 400 people and acts have asked to take part, but we have had to get that figure down to 60 as we have only got two days."
As well as helping organise the event, Dione is taking part herself.
"It's not often that you get to say that you're going to sing in front of 100,000 people, yet here I am saying, I'm going to be singing in front of 100,000 people!!
"This is what community spirit means. Sixty amazing acts will be performing online for Rock the Lockdown this weekend, it's going to be epic."
The live weekend event will be streamed via Facebook from 3pm tomorrow (Saturday, March 21), continuing into Sunday.
Ollie and Lucy told EWN they are more than just "a little overwhelmed" over the incredible response to Rock the Lock Down, but at the same time extremely happy about the interest.
In fact Sir Bob Geldof himself 'liked' the Rock the Lockdown page, and Ollie has contacted Midge Ure…..so watch this space.
The drill for Saturday and Sunday is that each set will be 15 minutes long, can include three or four songs and anyone can take part. A running order will be put up on the Facebook page.
There are DJs, Rock Bands from Australia, Switzerland, and the USA. UK bands will also be streaming live from their shows, with original artists having expressed an interest in performing.
It's sure to be a fantastic weekend, just sit back and enjoy yourselves and remember that the vast majority of entertainers on the Costa-del-Sol have no income for at the least the next few months, they deserve our respect and admiration for giving their time and talent for free and just for you!
Find out more about Rock the Lockdown at: https://www.facebook.com/groups/1066664150378119/