YOUNG British driver Seb Perez was proclaimed champion at the 16th edition of the Rally Clasico Isla de Mallorca.
Seb and his co-driver Gary McElhinney took the speed title for the first time after leading in two exciting days of competition in their 1975 Porsche Carrera RS.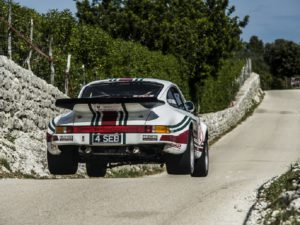 They shared the podium with the German teams formed by Oberdorster and Oberdorster and by Becker and Hochweller.
The Mallorca women's team of Nadja Rothkirch and Juana Font were Regularity category champions in their 1972 VW Karmann. They led their category from the very first stage of the competition.
They were followed by Mallorcans Castañer and Lasanta in a 1970 Porsche 911 and by German team Droste and Mohr with their 1979 Opel Kadett C Coupe GT
Jim Whelan and Allan Harryman triumphed in the Legend category in a 1987 MG Metro 6R4, beating the BMW E30 M3 of Whale and Windress and their 1987 Ford Sierra, who were second and third respectively.
In the Modern Classic category it was a victory for the British Ahlgren and Ashworth team in a 2008 Peugeot 206 S2000. Germans Zander and Muller were second in a 1997 Ford Escort Cosworth WRC and the Brits Rockingham and Scarret came in in third in a 1997 Subaru Impreza WRC.
The rally was originally planned to have been held over three days, but had to be reduced to two due to the coronavirus crisis situation.