LIKE the rest of Spain the Costa Almeria is living through extraordinary times as the coronavirus has developed into a full-on crisis.
First there was a steady drip of notifications that cultural events, fiestas, fundraisers and sports fixtures had been cancelled or postponed. By Friday this had snowballed into an avalanche of announcements from authorities and administrations about a series of drastic measures aimed at trying to contain the spread of Covid-19 in the province.
Sports facilities, libraries, senior citizens' centres, museums and theatres were closed, municipal office opening hours restricted, weekly markets stopped.
The Junta de Andalucia announced schools and universities across the region would shut on Monday for two weeks.
At the same time councils stepped up cleaning and disinfection measures at municipal facilities, including children's playgrounds and bio-health zones.
By the time the Prime Minister declared a national state of alarm on Saturday, with major restrictions on movement and the closure of all but essential business and services for 15 days from Monday morning onwards, the Costa Almeria was well and truly into crisis mode.
Some were already wearing face masks when they went out. Shop assistants had on face masks and gloves to serve customers.
Despite the authorities' assurances the supermarkets would be staying open and the supply of products maintained, there were clear indications some at least were panic buying. Mojacar Playa's main supermarkets were out of toilet roll by early on Saturday morning and there were significantly longer lines than usual of people with overflowing trollies at the supermarket checkouts.
Even before the obligation for wining and dining establishments to close came into force, many decided not to open.  Mojacar Playa's normally bustling cafes had just a handful of customers on Saturday morning and only a few restaurants bothered opening their doors on Saturday night.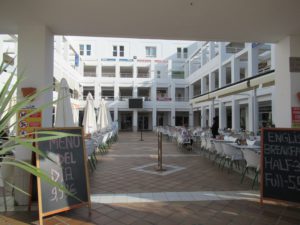 The Junta de Andalucia's decision to prohibit access to the region's parks and beaches on Saturday really brought it home that the coronavirus situation is extremely serious. The sight of the Mojacar Local Police cordoning off the beaches and seafront promenade on a beautiful warm sunny day, when they would almost certainly have been packed with people, said it all.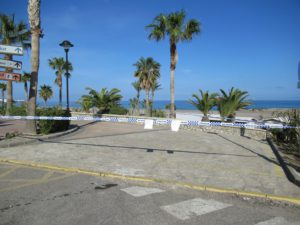 The Andalucia-wide beach closure was prompted in part by concerns over people from other parts of the country coming down to their holiday homes on the coast, Spanish media reported.
"There has to be an end to the irresponsibility of some people who are behaving as if they were on holiday", commented Junta de Andalucia president Juanma Moreno.
Spanish press reported that Mojacar Mayor Rosa Maria Cano was concerned about the number of Madrid residents who had come to Mojacar, quoting her as saying, "we can't do anything except trust that they follow the recommendations of the authorities and stay at home."