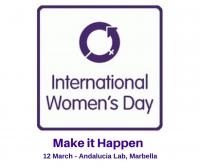 Dear readers, unfortunately, it is with great sadness, that we have to announce that the International Women's Day Conference ('Make it Happen') has to be postponed until further notice. This is due to the potential spread of Covid-19 (Coronavirus).
Attendees have been emailed by Costa Women with an update and access to the live workshops online, which will be running in place of the conference.
Sadly, many events are being either postponed or cancelled at the moment along the coasts, as town halls wish to try to be as careful as possible at this time.
We were very much looking forward to this event, and had arranged flowers for all the strong, beautiful women!
If you happen to be in the Fuengirola area, please drop by our head office (Avenida Ramon y Cajal 54, Edificio River Playa, Local 2), to pick up the latest edition of Euro Weekly Newspaper, as well as a beautiful purple flower!
Come and see us ladies, pick up a flower and let us know how YOU celebrated International Women's Day last Sunday!
We hope that we will be able to enjoy this event on a later date, but for now please take care, and be safe.