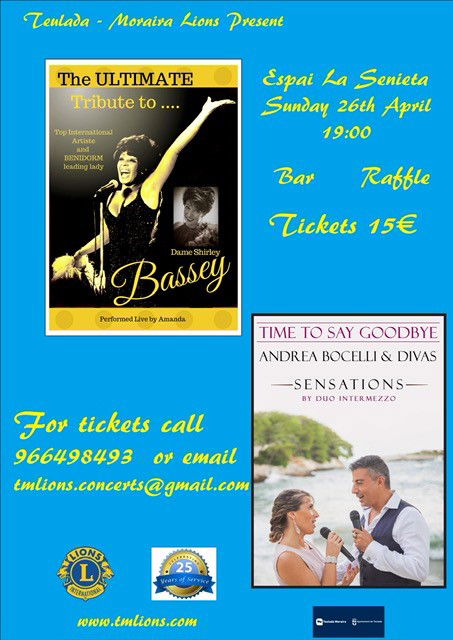 TEULADA Moraira Lions are delighted to present a Shirley Bassey tribute, on Sunday, April 26.
With a powerful voice capable of delivering the dynamic tunes synonymous with Shirley Bassey, Amanda will be performing some of the singer's classics – Goldfinger, Diamonds are Forever and Get the Party Started.
Shirley Bassey's career spanned 50 years with regular appearances in the UK Singles Chart and famously three James Bond theme songs.
In addition, the Lions are also presenting Duo Intermezzo. Their style is Opera Fusion – a mix of opera, pop and Latin jazz. Duo Intermezzo will be kicking off the musical evening with some 'truly beautiful' pieces.
The show will be staged in Espai La Senieta, Moraira at 7pm.
Tickets cost €15 euros and there will be a bar and raffle. All profits go to support those in need through the charitable donations made by the Teulada Moraira Lions Club. For more information on the club, visit www.tmlions.com.
To book tickets for this unique and superb show, call 966 498 493 or e-mail tmlions.concerts@gmail.com