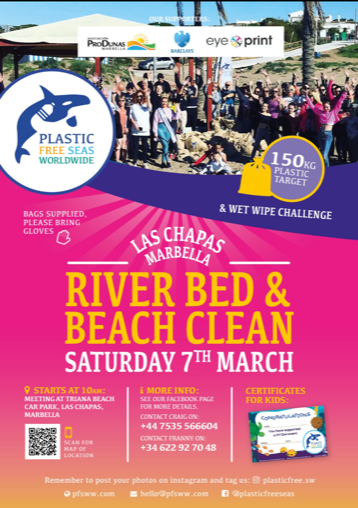 PLASTIC Free Seas Worldwide are back this Saturday and need some much-needed support to promote their clean up in Las Chapas. Another month another new location!
There is a lot of plastic waste on this small section of beach so they are looking for more volunteers to come and join the team on March 7 at Las Chapas.
Founder Craig Webb hopes to clear 150kg of plastic waste.
"Last year's event in Cabopino was a huge success with a record 500KG being collected, Trianas is located at the other end of the same stretch of Coastline and is a stunning area of natural beauty. I hope the plastic waste has reduced this year due to so much media coverage! Team Spain look forward to catching up with everyone on March 7th. We are also having a wet wipe challenge, let's see how many of these awful towels we can clear from the river bed!"
The group will be meeting on the beach in front of Trianas large car park at 9.45 a.m. (look for the PFSW Flags).
There will be certificates for children who attend and a free gift for all volunteers.
Hessian bags will be provided for rubbish collection.
Plastic Free Seas Worldwide ask that volunteers bring the following items with them:
suntan lotion, gloves and plenty of water.
The local council will be collecting all rubbish after the event and will endeavour to recycle as much as they can.
PFSW is a dedicated group of volunteers who want to help the planet and its wildlife. They do not ask for donations. Your time is all they need and any help is really appreciated. If you have any questions or queries please email help@pfsww or call 0034 622927048.