STORM Karine battered Mallorca with winds gusting up to around 110 kilometres per hour and three to four metre high waves this week.
The gales caused a number of incidents in various parts of the island.
The Palma fire service had to remove a tree which came down in La Rambla in the city centre on Monday, luckily not injuring anyone.
Firefighters also had to reattach power cables which had come loose in the winds and take down railings from the roof terrace of a building which were leaning over and threatening to tumble down onto the street.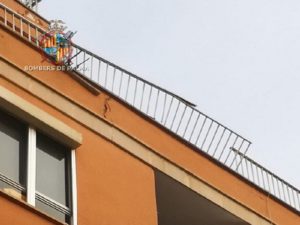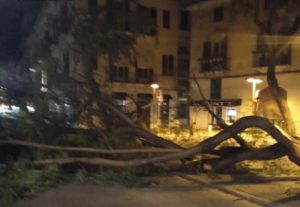 The fire service further reported that it looked likely that it was a strong blast of wind which tore off the tarpaulin covering scaffolding on a building in Calle General Riera in the island capital on Saturday night, causing the structure to come crashing down onto the pavement.
By great good fortune there was no one passing by at the time.
On Tuesday the AEMET State Meteorology Agency put Mallorca on orange alert for gusts of up to 100 kilometres per hour in the Tramuntana mountains, north and north-east of the island and up to 90 in the south, interior and Llevant. In fact the wind got up to 112 kilometres per hour in the Sierra de Alfabia in Bunyola.
There were about a dozen wind-related incidents on the roads, the island government said.
The Consell's highway emergencies team mainly had to deal mainly with fallen trees and traffic signals, but also other objects.
Some roads had to be cut off to traffic. The highway connecting Orient and Bunyola was blocked by two pine trees which had come down. There were similar tree issues for traffic on the Lloret and Binissalem roads, at the crossroads connecting Maria de la Salut and Santa Margalida, on the Ma-1032 between Puigpunyent and Galilea and on the Ma-13 by the Can Bisanyes roundabout in Alcudia.
Fallen trees and branches did not close the Palma to Puigpunyent road or the s'Estanyol road in Llucmajor, but did disrupt traffic flow until they were removed.
Palma city council meanwhile decided to close the Passeig Sagrera to pedestrians after at least seven palms toppled over.