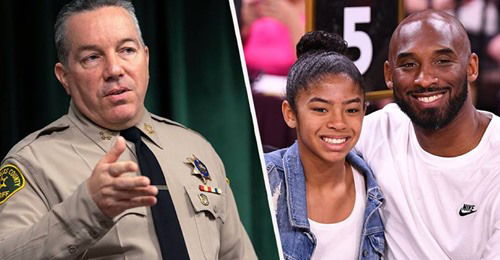 LA County Sheriff Alex Villanueva has confirmed that as many as eight deputies took graphic photos of the Kobe Bryant helicopter crash site. 
Kobe Bryant, 41, and his daughter Gianna, 13, were both killed in a freak accident alongside seven other people on January 26, in California.
News of a potential scandal emerged last week when it was alleged that officers had shared illicit images of the crash site – with one deputy trainee attempting to impress women with the images whilst at a bar.
Now, Villanueva has confirmed that eight of his deputies took, saw or shared images, which he had ordered them to delete.
Sources reported that deputies had shared images that contained the victims' bloody remains.
Villanueva has said that he was 'shocked' and it was 'a punch to the gut' when he found out the news. He added that the ordeal is a 'sense of betrayal' from the officers. He has since stated that he is now looking to tighten policy around the matter – as it isn't against the law for the officers to have the images but is a breach of department policy.
He added that officers taking photo's at crime scenes has been an issue 'ever since they invented the Polaroid.'