The Spanish Airforce has defended its use of the 40year old C-101 Aviojet advanced trainer planes and will continue to fly them.
The C-101 Aviojet involved in the crashes is a low-wing single-engine advanced trainer conceived by the Spanish manufacturer Construcciones Aeronáuticas Sociedad Anónima. It entered service in Spain in 1980 and is operated by four air forces around the world.
In June 2019, the Spanish government announced that €225 million would be allocated to find a replacement. No aircraft has yet been officially chosen. According to the local press, the Beechcraft T-6 Texan II and the Pilatus PC-21 are being considered.
In September 2019, an ENAER T-35C Pillán trainer aircraft of the Spanish Air Force crashed shortly after takeoff, near the coast of San Javier, southeastern Spain. The two occupants, an instructor, and his trainee died during the crash.
February 27th 2020
A Casa C-101 Aviojet belonging to the Patrulla Águila (Spanish for "Eagle Patrol"), the Spanish Air Force's display team, crashed into the sea near La Manga, in Murcia. The pilot, Commander Eduardo Fermín Garvalena, was killed in the incident.
Initially, the Ejército del Aire (Spanish Air Force) released a statement saying that a C-101 jet of the Academia General del Aire, the academy of officers of the Spanish Air Force, was involved in the accident.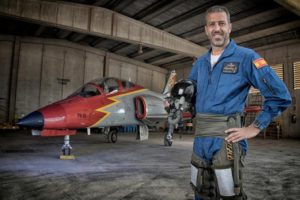 18th September 2019
An instructor and a student died when an Air Force aircraft crashed in the Mar Menor (Murcia) during an instructional flight. It was a small "trainer" plane and was used for basic education. The deceased were commander Daniel Melero Ordóñez, 50, a native of Cádiz, and the third-year student Rosa Almirón Otero, 20, of Lucena (Córdoba).
26th August 2019
The pilot of a Spanish Air Force plane that crashed in the Mediterranean Sea, in front of the seaside, spit La Manga del Mar Menor, in Murcia.
An emergency team located the remains of Commander Francisco Marín Núñez, who was the only crew member on board. A video of the crash was later posted on Social Media.
🔴 🇪🇸 Crash d'un Casa C-101 Aviojet des forces aériennes espagnoles à La Manga en mer Méditerranée. pic.twitter.com/zxsoyHOkKt

— air plus news (@airplusnews) August 26, 2019
The accident comes after seven people were killed on last Sunday in a midair collision between a light plane and a helicopter in Mallorca, in Spain's Balearic Islands. A German family with two children and the Italian pilot of the helicopter, as well as the two Spaniards on board the plane, died in the accident.