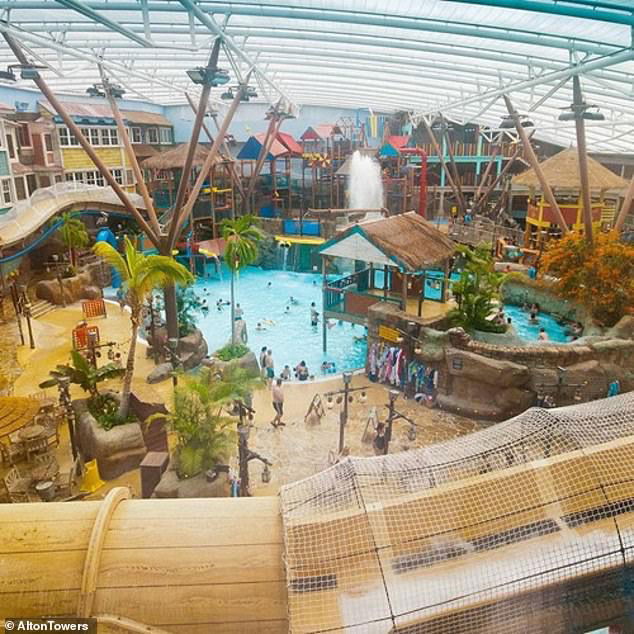 Theme park Alton Towers has closed its water attraction after guests and staff reported feeling unwell, with 39 people being looked at by paramedics.
Police, ambulance crews and the fire service attended after a number of people complained of eye and throat irritation.
A spokesperson said 39 people – including six children – were assessed, but all were discharged without treatment and that the park are 'helping the Fire Brigade with their ongoing investigation.'
The water park – featuring slides, water cannons and pools – has been open daily from 10am-4pm, but park bosses took the decision to close around 1pm today. It was not due to open tomorrow.
An air ambulance was dispatched to treat sufferers.
A resort spokesperson said: 'At around 1 o'clock today we took the decision to close the Waterpark after a small number of people reported irritation of the eyes and throat.'
The statement went on: 'The Fire Brigade, WMAS and Staffordshire Police attended the resort, as is standard for any site where chemicals are used.
'39 people, including 6 children, were assessed by medical staff but all have been discharged with no treatment required.
'We are helping the Fire Brigade with their ongoing investigation.'
Staffordshire Fire and Rescue Service confirmed they were called to the park and dispatched three crews from nearby areas.
They said in a statement: 'We were called to the water park at Alton Towers Resort at 1.50pm this afternoon following reports of staff and guests with irritation to the eyes and throat.
'Crews from Leek, Cheadle and Uttoxeter are currently in attendance and carrying out an assessment.'